The world's first crowdfunding platform for the ocean energy industry launched today, designed to address a lack of early-stage funding for a fast-growing part of the renewable energy sector.
New Crowdfunding Platform Launched to Grow Ocean Energy Industry

Clean Reach provides new funding source for a critically important renewable energy sector
PORTLAND, Ore. (February 10, 2014)—The world's first crowdfunding platform for the ocean energy industry launched today, designed to address a lack of early-stage funding for a fast-growing part of the renewable energy sector. Clean Reach, which debuted with five projects, offers a new way to grow an energy source that could offer an almost limitless supply of power for the world.
Clean Reach exists to address one of the largest challenges facing the renewable energy sector: access to adequate funding. Entrepreneurial start-ups, coastal communities and, at times, even mature ocean energy developers face challenges in getting enough funding and other resources to go from a good idea to marketable technology; in energy, those challenges are particularly acute.
"Ocean energy visionaries across the globe have pioneering ideas that, if given the opportunity to reach fruition, can be the difference makers in providing clean, renewable energy to the world population," said Clean Reach Co-Founder and CEO Stephanie Thornton. "Creating commercially viable ocean energy technology is paramount, but investors aren't giving renewable energy the attention it deserves. We must work harder now to prepare for the future."
University of Michigan Professor of Naval Architecture Michael Bernitsas estimates that just .1 percent of the ocean's energy could support the needs of 15 billion people, or twice the world population. Though ocean energy technology has incredible potential, it is still relatively new. Continued reliance on fossil fuels is hindering the growth of the renewable energy industry, with just 3 percent of American venture capital allocated to the energy and utility industry in 2013.
"Funding gaps through all phases of the technology development process are causing innovative and effective ideas to perish," said Clean Reach Co-Founder and CTO Terry Thornton. "Clean Reach is a resource for developers and communities in need of funding, and for passionate supporters hoping to connect with forward-thinking ideas."
Americans broadly support increasing the amount of energy generated from renewable resources. A recent Pew Research Center poll showed that nearly three-quarters of Americans favored more federal funding for alternative energy.
"Clean Reach's crowdfunding platform is an easy way for people to have a direct impact in creating environmental benefits and advancing the ocean energy industry, " added Stephanie.
Current Projects:
Hebridean Marine Energy Futures recognizes that ocean energy is a global challenge that requires global connections. This project will send one lucky student to Scotland to engage in educational ocean energy endeavors.
Funding goal: $5,000 Days to go: 32
The International Conference on Ocean Energy supports leaders from around the world who work tirelessly to advance the ocean energy industry. This project honors one of these leaders and inspires others to follow suit.
Funding goal: $11,000 Days to go: 32
The International Network on Offshore Renewable Energy backs passionate minds that are shaping the future of ocean energy and finding ways to overcome challenges. This project helps foster perpetual international research and collaboration.
Funding goal: $6,000 Days to go: 60
Uniturbine is an entrepreneurial effort that is making waves in efficiency. This project advances development of a technology that improves wave energy capture and lowers the cost of energy production.
Funding goal: $7,000 Days to go: 47
The innovator behind a new wave energy turbine generator makes simplicity a priority. This project helps advance a technology that's focused on efficiency, power and cost effectiveness.
Funding goal: $3,500 Days to go: 32
About Clean Reach
Clean Reach exists to help the ocean energy industry overcome key barriers, increase access to funding, improve collaboration among project developers, gain strategic advice and strengthen public awareness of the industry's tremendous potential. Founded by ocean energy experts Stephanie and Terry Thornton, Clean Reach launched in February of 2014 to provide needed funding to a growing industry with an almost limitless potential to produce clean power. Learn more at www.cleanreach.com.
Featured Product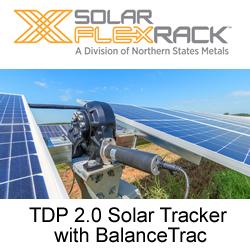 Solar FlexRack's latest solar tracker technology bundles an advanced tracker design with a full team of seasoned engineering and installation experts at your service. The next-generation solar tracker delivers a package of features that both enable increased energy yields for commercial and utility-scale solar installations, and significantly reduce project risks. That translates to smart installation cost-savings across your project budget.