During a career spanning 50 years, Yerkes helped move solar technology from NASA spacecraft to home rooftops and developed manufacturing techniques that allowed solar panels to be produced and installed on a mass scale.
HILLSBORO, Ore., Feb. 10, 2014 – SolarWorld mourns the death of John W. "Bill" Yerkes, a visionary entrepreneur who played a primary role in pioneering the global solar-manufacturing industry, including SolarWorld's U.S. industrial lineage. During a career spanning 50 years, Yerkes helped move solar technology from NASA spacecraft to home rooftops and developed manufacturing techniques that allowed solar panels to be produced and installed on a mass scale. Many of today's solar-industry veterans got their start under the influence of the leadership, processes and products that Yerkes brought to the industry.

Yerkes graduated from Stanford University in 1957 with a bachelor's degree in mechanical engineering and began his professional career in Chrysler's engineering center in Detroit. He then transitioned to the aerospace industry, where he worked as the project manager and designer of The Boeing Company's spacecraft test facility in Kent, Wash. In 1967, he joined Spectrolab, the first U.S. producer of solar cells and panels for space applications. As president and chief executive officer of the company, he oversaw development of the solar array that Apollo 11 left behind on the moon.
In 1975, Yerkes founded Solar Technology International in Chatsworth, Calif., pioneering processes for mass-producing crystalline silicon solar cells and panels. After Atlantic Richfield Co. Inc. purchased his company, Yerkes led ARCO Solar in Camarillo, Calif., as its president. During Yerkes' tenure, the company reached industry milestones, such as the first 1 megawatt of annual production in 1980 and the first 1-megawatt grid-tied solar installation in 1982.
Siemens purchased the Camarillo manufacturing site, and later Shell, before SolarWorld Industries America Inc. bought the Shell unit in 2006. Although SolarWorld was forced to close the Camarillo factory in 2011, the site still holds the record as the longest to be continuously operated by a U.S. solar manufacturer. Former ARCO Solar employees – and the expertise they honed under Yerkes' leadership – remain within SolarWorld today.
"Bill Yerkes was the first big visionary who saw what solar power could do for the world," said Raju Yenamandra, SolarWorld's vice president for business development in the Americas and an employee at the Camarillo site since 1980. "He worked tirelessly to proliferate solar technology by making it widely affordable, driving down costs not just of solar modules but of total systems. He prized innovation, efficiency, and the competition of ideas."
Yerkes left ARCO Solar in 1985 to develop a series of businesses that pushed the boundaries of solar technology. In the mid-1980s he founded a thin-film start-up that made cadmium-telluride solar cells some 15 years before current industry players got their start. He led establishment of Boeing's High Technology Center in Bellevue, Wash., which developed gallium-arsenide solar cells and photonics devices, and later served as power systems manager for Teledesic, a startup that produced 1,000 low-Earth-orbit satellites for internet telecommunications. In 2005, he co-founded Solaicx in California and Oregon, where he developed a proprietary high-efficiency, low-cost silicon-crystal-growth technique for solar cells.
"Yerkes is the father of the modern solar industry," Yenamandra said. "Years before anyone else, he was passionate about innovating complete solar solutions at the lowest possible cost. He was proud to have launched not just a technology, but an industry that could employ inventive and idealistic people in changing the way we power the world."
About SolarWorld
SolarWorld AG manufactures solar power systems and in doing so contributes to a cleaner energy supply worldwide. The company, located in Bonn, employs approximately 2,500 people and carries out production in Freiberg, Germany, and Hillsboro, USA. From raw material silicon to the solar module, SolarWorld manages all stages of production ‒ including its own research and development. Through an international distribution network, SolarWorld supplies customers all over the world with solar modules and complete systems. The company maintains high social standards at all locations across the globe, and has committed itself to resource- and energy-efficient production. SolarWorld has been publicly traded on the stock market since 1999. More information at www.solarworld-usa.com
Featured Product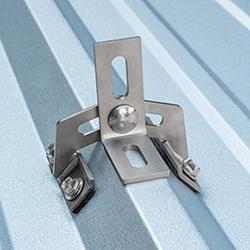 They have been changing the game for 10 years with their original Top Mount line for Asphalt Shingle roofs, and by now supplying one of the widest ranges of solar mounts in North America. From their patented products, to the custom production services they offer, QuickBOLT has been working with solar installers for nearly a decade to make solar installations easier than ever before.