Interested Firms will Participate in March 20 Auction
KYLE, Texas, Feb. 10, 2014 -- Xtreme Power, a leader in integrated power management systems and energy storage solutions, won bankruptcy court approval on February 7 to eliminate a February deadline for bids and instituted a straight auction process in March. Horizon Technology Finance Corporation will provide debtor-in-possession financing and serve as the stalking horse at the auction with a bid of $10 million and a pledge not to compete with firms bidding higher.

"This is all very good news-- qualified bids are now due March 18, with an auction on March 20," said Peter S. Kaufman, President and Head of Restructuring and Distressed M&A of Gordian Group LLC. "We also announced in court on Thursday that we have contacted over 100 buyers to purchase Xtreme Power, and about 30 firms have signed non-disclosure agreements to demonstrate their seriousness and gain access to management and Xtreme Power's confidential information."
Last month, Xtreme Power filed voluntary petitions for relief under Chapter 11 of the United States Bankruptcy Code in the United States Bankruptcy Court for the Western District of Texas. The Chapter 11 filing enables the company to continue its operations at all locations as it identifies an acquirer. The decision to file for Chapter 11 protection is part of a strategy to ensure that the company and its cutting-edge value offerings continue to be viable in the marketplace and take advantage of growing energy storage markets. The company's core engineering, project development and operations staff will remain in place during this process.
"With an unmatched track-record for deploying applications that work as designed, we're perfectly poised to take advantage of the latest developments in our market," said Alan Gotcher, CEO of Xtreme Power.
On January 21, 2014, the Puerto Rico Electric Power Authority ("PREPA") announced the approval of eight projects for 210 MW of renewable energy requiring storage – the culmination of years of preparation, in which Xtreme Power took an active role.
In addition, California regulators recently approved an ambitious plan to install a large amount of energy storage projects totaling over 1,325 MW by 2020 to help the state meet its renewable energy mandate. Of note, large-scale pumped storage was excluded in favor of newer, more sophisticated technologies, like Xtreme Power's. The first bidding process will start by the end of 2014 and continue every two years. Also this week, several Caribbean nations committed to replacing diesel generators with renewable energy sources to power their grids.
Xtreme Power retained Gordian Group LLC to assist in the sale of the company. Gordian Group LLC is one of the nation's leading independent investment banks specializing in complex and/or distressed financial advisory and mergers and acquisitions work. Gordian will work with Xtreme Power to help manage the sale process.
With 12 projects in the field accounting for 60 MW of grid-scale installations, ranging from 1MW up to 36 MW, Xtreme Power's operational experience includes more than 34,100 MWh charged and discharged over 472,200 hours of integrated power unit operation. The grid-scale energy storage market is poised for significant growth in the next five years. Xtreme Power has already built the largest energy storage system of its kind for Duke Energy's Notrees wind energy farm in Texas, and has operations spanning from the Hawaiian Islands to the South Pole.
Interested bidders should contact Gordian Group, care of Matthew Jacobs at (212) 486-3600 ext. 114 or mj@gordiangroup.com.
About Xtreme Power
Xtreme Power provides scalable, real-time power management and energy storage solutions that enable a more sustainable, reliable, and cost effective electric grid. Xtreme Power's systems combine real time controls and intelligent power conversion systems with efficient energy storage technology engineered specifically to the needs of its customers. Xtreme Power enables multiple participants and technologies to simultaneously operate on the electric grid providing new flexibility that has never been possible before. Xtreme Power is a US company backed by investors SAIL Capital Partners, Bessemer Venture Partners, The Dow Chemical Company, Fluor Corp., BP Alternative Energy, Dominion Resources, POSCO ICT, Skylake & Co. and Spring Ventures, LLC. A 2012 Bloomberg New Energy Pioneer, Xtreme Power earned the 15th spot on Inc. Magazine's 500|5000 list of the fast growing private companies in the U.S. in 2012 – the company's second year in a row making the list. For more information, please visit http://www.xtremepower.com.
Featured Product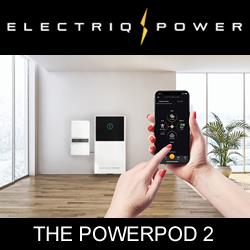 The Electriq PowerPod 2 is a fully-integrated home energy storage, management, and monitoring system powered by LFP batteries. The high-performance, cobalt-free product includes a hybrid solar/battery inverter controlled by intelligent software. The PowerPod 2 provides backup power and can self-consume or export excess power back to the grid.