The Wall Street Green Summit XIII on March 31st in New York City boasts an impressive line up of more than 30 speakers. These speakers include senior executives from Ingersoll Rand, Solar Mosaic, the Clean Fund, Black Corl Capital, the New York and Connecticut Green Banks, and seven Impacting Investing funds.
New York, New York February 11, 2014

The Wall Street Green Summit XIII (WSGS), the longest running environmental finance event in the industry, today announced it will return to New York City on March 31st for its thirteenth consecutive year. Focused on sustainable finance, impact investing, and renewable and energy efficiency finance, the Summit will provide executives with the latest developments and networking opportunities on global environmental financial markets.
Clean Energy Financing
While renewable energy investment dollars may have fallen in recent years, interest in cleantech financing has continued to attract significant global interest. As such, this year's summit will include in-depth analysis of new emerging financing models – including Crowdfunding, Securitizations and PACE Financing – as well as discussions around where cleant energy financing is headed. Keynote tracks include:
*Sustainable Finance and Impact Investing Today: Peter Fusaro, Global Change Associates
*The Development of Green Banks: Bryan Garcia and Alfred Griffin
*The Latest in Cleantech Investing: Rob Day, Black Coral Capital
Impact Investing
As an ever-growing number of investors seek to make investments that generate both social and environmental value as wall as a financial return, the emerging industry of impact investing has the potential to address major global challenges. While impact investing is gaining momentum, there are still issues remaining including scalability, the lack of appropriate capital across the risk/return spectrum and shortage of high-quality investment opportunities. Impact investing tracks include:
*Impact Investing 101: Ben Bingham, Founder & CEO, 3 Sisters Sustainable Management
*Sustainability as an Investment Theme: Anric Blatt, Terra Prima Partners LLC
*Water as the Next Market: Bill Brennan, Portfolio Manager, Summit Global Management
Launched in 2002 by Peter Fusaro, the Wall Street Green Summit covers cutting edge content, industry developments and features the practitioners and the leaders of tomorrow. The 13th annual WSGS promises to deliver stimulating dialogue around corporate sustainability, renewable energy project finance, building design, the smart grid, emissions mitigation, green funds, and energy efficiency finance.
For more information on the Wall Street Green Summit, please visit: http://www.wsgts.com.
Featured Product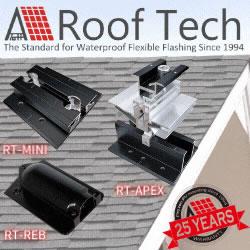 Now Roof Tech brings you the most innovative, watertight mounting systems ever developed for solar photovoltaic systems. Designed and manufactured exclusively for us by Japan's longtime leader in roofing technologies, Roof Tech products are 100% code-compliant and offer fast, simple installation and huge savings on shipping costs due to their compact, rail-less design. Learn more about our full line of versatile PV mounting solutions now available for residential installations. The next generation in rooftop solar mounting solutions."