The DuraTrack™ HZ makes a difference for distributed generation program
Array Technologies, Inc. (ATI) and engineering, procurement and construction (EPC) company BELECTRIC, Inc. have commissioned three solar power sites totaling 5.7 MW in California. The projects – Navajo Solar, Powhatan Solar and Industry Solar – are part of Southern California Edison's (SCE) California Renewable Energy Small Tariff (CREST) feed-in tariff program.

The CREST program aims to grow small-scale sources of energy to support a distributed generation electricity model in the state of California. The projects were faced with a tight timeline, as they needed to be completed before their power purchase agreements (PPA) expired at the end of 2013.
"BELECTRIC is excited to be one of the first companies to successfully complete a SCE CREST project," said BELECTRIC CEO, Dr. Karl Markert. "It was our relationships with SCE, San Bernardino County, and leading solar power companies, like Array Technologies, that greatly assisted us in meeting very tight project schedules."
ATI's DuraTrack™ HZ single-axis tracker was chosen by BELECTRIC for its efficient use of materials, stellar on-time delivery schedule, and ability to be installed faster than any other solar tracker on the market. Array Tech also facilitated factory component kitting, on-site project management support and commissioning services to ensure timely completion of all project objectives.
"We are grateful to have partnered with BELECTRIC on this trio of projects," explained ATI Founder and CEO, Ron Corio. "Working side-by-side on the first successful SCE CREST distributed generation project was a privilege."
In 2012 ATI and BELECTRIC completed a 5 MW solar tracking site in Oregon, just outside of Christmas Valley, which now produces enough energy to power nearly 1,000 homes annually.
About Array Technologies:
Array Technologies is the worldwide market leader in tracking solutions for utility, commercial and residential solar electric systems, with nearly 2 gigawatts shipped and installed across the globe. Array's innovation and leadership in ground mount fixed-rack and solar tracker design has established the industry standard for cost-effective, robust, reliable and easy to install PV solutions with over two decades of field experience. Headquartered in Albuquerque, NM, Array Technologies' ground mount solutions are engineered and manufactured in the USA. For more information about Array Technologies, Inc., please visit arraytechinc.com.
About BELECTRIC:
BELECTRIC is one of the world's most successful companies in the development and construction of ground-mounted solar power plants and photovoltaic roof systems. As an international company, BELECTRIC is represented in more than 20 countries. Its position as a world leader in technology is the result of a high degree of vertical integration in the development and manufacturing processes. A belief in the compatibility of economic and ecological interests has always been the basis for the sustainable success of our 1,750 employees. More than 100 active patents are a testament to BELECTRIC's innovative spirit. In addition to solar power generation, BELECTRIC Drive® concentrates on the combination of photovoltaics and electromobility. Visit www.belectric.com for further information.
Featured Product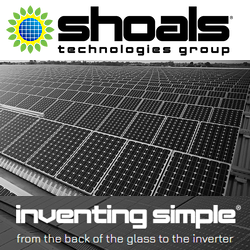 Inventing Simple® isn't just a slogan to us, it's a way of life. Using simple plug-and-play ideology, we revolutionized solar installations in 2003 with our Interconnect System™. Our harnessing system is now the gold standard EPC's use around the world. By using simple ideas, we are making solar energy a more affordable and clean power source for future generations.