The Moroccan Agency for Solar Energy (MASEN) will be speaking about the rapidly growing concentrated solar power industry in Morocco at MENASOL (6-7 May, Dubai) this year.
MASEN is a government organisation set up to conduct all of the technical, economic and financial studies necessary to the implementation of the Moroccan project for solar energy, which aims at 2GW of solar energy by 2020. They will be the key off-taker of Noor I, Noor II and Noor III and have also invested €265 million into the Noor I project.

Morocco is currently the most prospering country in the Middle East and North Africa region for implementing concentrated solar power, setting a good example for other countries to follow. There is 20MW in operation, 160MW under construction (Noor I) a 100MW (Noor II) and a 200MW project (Noor III) where the pre-qualified bidders have been announced. Noor I, the 160MW plant, began construction in May and it is the biggest CSP plant in the MENA region to date.
AT MENASOL, representatives from MASEN will also be joined by Jonathan Walters, Director, Regional Programs and Partnerships at The World Bank to discuss financing Noor I. They will also be joined by Charlie Richardson, Senior Underwriter at GCube Underwriting Limited, who will be speaking about their deal with Munich RE to provide risk transfer solution for the project. It is a Marsh-designed integrated policy for the 28 month construction period as well as 12 months of commercial operation.
For information on how CSP in Morocco will be discussed and evaluated at MENASOL, visit the website on http://goo.gl/4oauOM or contact Sarah on sarah@csptoday.com
Featured Product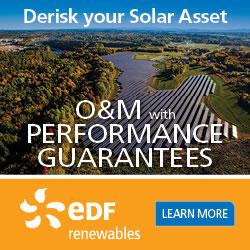 EDF Renewables offers the same innovative solutions that maximize the performance of our own 5.2 GW of installed projects. Because we're not an equipment manufacturer, our recommendations are transparent and data-driven. We cover the entire project lifecycle: from pre-commissioning support, through warranty and post warranty operation, to late stage and decommissioning.