Housing Authority adds 16 solar units to elderly living complex; solar panels ensure low monthly utility costs for residents
Dublin (Georgia), February 11, 2014. – MAGE SOLAR USA, a US-based provider of premium quality, top-performance PV and ACPV modules, announced that the Citizen Potawatomi Nation Housing Authority added 16 separate solar PV arrays at the Father Murphy Elderly Living Complex in Shawnee, Oklahoma. The systems were designed and installed by Advanced Solar and Wind Technologies LLC.

The federally recognized government of the Citizen Potawatomi Nation places a strong emphasis on affordable housing, care for the elderly, and living in unison with the environment, and recently added solar to its sustainability program. Residents of the Father Murphy Elderly Living Complex can now enjoy clean, renewable energy generated by solar arrays on each of the 16 units in the eight newly constructed duplexes, totaling 40kW. The project was funded by a grant from the U.S. Department of Housing and Urban Development with the goal to ensure low energy bills each month and to gain independence from sudden spikes in utility rates.
"Many of our elders are on a fixed income so we are excited for them to experience the reduction in electrical usage which translates to more money in their budgets for other necessities," explains Scott George, Director of the CPN Housing Authority. "We have always had a focus on creating environmentally friendly options to power our housing and our businesses. Advanced Solar and Wind Technologies and Mage Solar have been great to work with."
The 16 MAGE POWERTEC PLUS systems were designed and installed by Advanced Solar and Wind Technologies LLC of Choctaw, Oklahoma, an experienced solar integrator with almost 1 MW of installed capacity. The savings and increased independence from solar are so popular with the Housing Authority managements that plans for retrofitting older apartment complexes as well as equipping single family homes with solar are on the drawing board. The industry leading 30 year power guarantee the US-based company provides ensures the owners that the clean energy will be reliably generated for more than a generation to come.
"Scott George and the entire Citizen Potawatomi Nation were a pleasure to work with on this project," comments Jim Stober, the CEO of Advanced Wind and Solar Inc. "We wanted use the finest panels available for this project, so we chose the Mage brand! The thirty year power warranty makes them the best choice for all of our installations. We look forward to helping them with future projects as they continue to keep energy efficiency paramount. This 160 panel job is our largest single project accomplished to date and I would like to thank the folks at MAGE SOLAR for their help in making it happen!"
"It brings us great satisfaction that Advanced Solar and Wind and the Citizen of Potowatomi Nation have chosen MAGE SOLAR as their preferred panel provider," says Don Hammond, Vice President of Sales and Marketing at MAGE SOLAR. "As the image of solar radiates to larger and larger demographics, we take great pride in the quality of our modules and the high level of customer service we offer. The collaboration with both entities on this project was fantastic and we wish the residents of the Father Murphy Elderly Living Complex a long and enjoyable solar experience."
Featured Product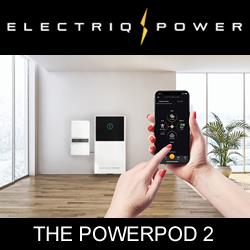 The Electriq PowerPod 2 is a fully-integrated home energy storage, management, and monitoring system powered by LFP batteries. The high-performance, cobalt-free product includes a hybrid solar/battery inverter controlled by intelligent software. The PowerPod 2 provides backup power and can self-consume or export excess power back to the grid.