Origis Energy Dedicates 23.5 MWDC Under Power Purchase Agreement with Georgia Power
ATLANTA--Origis Energy, a leading international investment and development firm focused on deployment of utility-scale and distributed generation commercial solar photovoltaic (PV) systems, today announced the completion and dedication of two solar power plants in Georgia, representing the state's second largest solar installations. The two solar power sites, with a combined capacity of 23.5 megawatts (MW)DC, are located in Camilla and Woodbury, Georgia and will deliver clean solar energy to Georgia Power, the largest subsidiary of Southern Company, one of the nation's largest generators of electricity, under the utility's Large-Scale Solar Initiative.

"We are pleased to see these solar facilities coming online as part of our Large-Scale Solar Initiative," said Ervan Hancock, renewable implementation manager for Georgia Power. "Georgia has one of the fastest growing and most competitive solar markets in the nation. Through agreements with developers like Origis Energy, which allow us to cultivate cost-effective solar energy for our customers, we anticipate more than 500 new solar projects across the state will be brought online in the coming years."
Commissioned in December 2013 the solar installations utilize 78,160 solar photovoltaic panels to generate enough power annually for nearly 6,000 homes. The green energy production of the solar plants will reduce CO2 emissions by approximately 27,000 tons each year.
"These solar power installations represent significant progress for adoption of solar power in Georgia and the entire Southeast," said Guy Vanderhaegen, president of Origis Energy. "We are proud to be involved with such groundbreaking solar energy projects with Georgia Power. Origis Energy will continue to increase its solar footprint in the U.S., which by the end of 2016, should reach an installed capacity of roughly 300 MW of solar assets."
Construction financing for these Origis Energy solar power projects was provided by Seminole Financial Services with permanent financing by Bank of America Merrill Lynch.
In July of 2011, the Georgia Public Service Commission approved Georgia Power's plan to buy up to 50 megawatts (MW) of solar power by 2015. Known as the Large-Scale Solar (LSS) Initiative, it was launched with no regulatory requirement and designed to put no additional upward pressure on rates. The LSS preceded the company's 2012 Advanced Solar Initiative (GPASI) and the 2013 ASI-Prime Initiative, which, combined, will bring another 735 MW of solar energy to Georgia. Georgia Power's cumulative programs are expected to result in nearly 800 MW of solar capacity when fully implemented, for the largest voluntary solar portfolio and one of the largest in the nation.
About Origis Energy
Origis Energy is a leading international investment and development firm focused on deployment of utility-scale and distributed generation commercial solar photovoltaic (PV) systems. Building on its existing portfolio of more than 100 solar PV projects in 5 countries, the company is focused on expansion in the U.S. and Latin America. Origis Energy's success is founded on financial engineering skills and international management acumen. The company offers a full spectrum of solar PV asset development, construction, financing and operation services. For more information, visit the company online at www.origisenergy.com.
Featured Product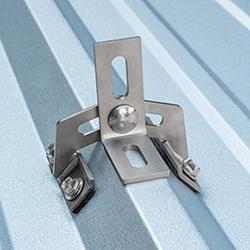 Error-Proof Compression: The QB2 doesn't leave any room for user error when it comes to Microflashing® compression. Once the Dual Drive Shoulder Screw is secured, the Microflashing® is compressed. Only 3 Components: The QB2 is comprised of Microflashing®, an L-foot and a Dual Drive Shoulder Screw. No more Nuts needed to tighten and secure the L-foot! Not only does this simplify the installation process, it also cuts down the installation time.