Next Generation Hybrid Solar System with Cost Structure of PV and Storage Capabilities of CSP
MOUNTAIN VIEW, Calif.--Cogenra Solar today announced that it has been selected by the Department of Energy's Advanced Research Projects Agency-Energy (ARPA-E) for an award of $1.996 million under their new program, Full-Spectrum Optimized Conversion and Utilization of Sunlight (FOCUS).

Today, the Cogenra T14 is the industry's lowest cost PV platform that also enables heat recovery and storage for on-demand conversion to electric power. With the help of this ARPA-E grant, Cogenra will develop a revolutionary, next-generation hybrid solar system with the cost structure of photovoltaic (PV) and the storage capabilities of concentrating solar power (CSP). The hybrid system's modularity will enable cost-effective solar with integrated storage. The system cost point will enable storage not just for utility-scale power plants but also for distributed commercial and industrial market segments.
"We're very excited about this opportunity to create the next generation hybrid system for the emerging high growth storage market," said Cogenra Solar CEO and founder, Dr. Gilad Almogy. "This proposed system has the potential to not only meet the cost structures needed for wide adoption of large-scale storage, but it could also do so for the distributed behind-the-meter customers."
Over the last few years the cost of solar PV power has dropped dramatically. Large scale batteries have struggled to keep up and, hence, low cost solar power is only available when the sun shines. Concentrating Solar Power (CSP), on the other hand, enables energy storage with molten salt but has not followed the PV cost reduction curve and is today viable only for very large, utility-scale projects.
The proposed solution will extend Cogenra's existing low temperature storage solution to higher temperature CSP operation. This will be achieved by splitting the optical spectrum into visible and infrared (IR) components. The visible wavelengths of the solar irradiation will be utilized to generate electricity from high-efficiency PV cells; while the IR wavelengths will be separated and utilized to generate high-temperature heat which can be stored and converted to electricity on-demand with a steam turbine. This will lead to truly dispatchable solar and to higher overall round trip storage efficiency than any alternative system – achieving approximately 40% combined electrical efficiency. The system will maintain the modular nature of PV panels and Cogenra's commercially available T14 system, enabling a successful model for energy storage with distributed generation. Cogenra will work together with developers of high efficiency PV cells as well as developers of spectrum splitting solutions to realize this new hybrid solution.
In addition to the award described above, Cogenra won a second ARPA-E FOCUS grant in partnership with the University of Tulsa as the lead performer. Cogenra will work on the full-scale concentrator system integration and concept testing. The concentrator system will be based on the break-through T14 product which incorporates field-proven active-cooling technology and low concentration optics for the lowest cost PV system available today.
About Cogenra
Cogenra Solar designs, manufactures and delivers lowest cost and high reliability solar systems for large commercial and utility-scale by combining high-efficiency photovoltaic cells and a single-axis horizontal tracker with proprietary low-concentration optics and efficient, active cooling of the photovoltaic cells. The proprietary technology utilized in Cogenra's T14 system is field proven in over thirty-five installations worldwide. The product includes optional waste heat recovery for solar cogeneration applications such as district heating and cooling plants, water treatment and desalination plants, or energy storage for on-demand solar power at night. Cogenra is headquartered in Mountain View, Calif. For further information about Cogenra Solar, please visit www.cogenra.com.
Featured Product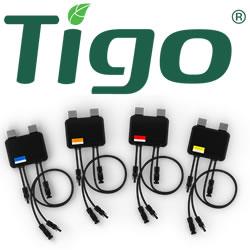 Tigo will announce the new product launch of the patented UHD-Core TS4-A (Advanced Retrofit/Add-on) Platform at SPI 2019. The new TS4-A-M (Monitoring) & TS4-A-S (Safety) units have improved lightweight hardware and lower labor costs to address a range of functions and budgets. The TS4-A-M allows module-level monitoring via Tigo's SMART Website & App. The TS4-A-S is UL-certified as a rapid shutdown solution for residential and C&I PV system. Both units join the Tigo's multivendor solution that works with almost any inverter and smart module in the global PV market. Contact sales@tigoenergy.com for pricing, shipping, and availability in Q4'19.