The projects are divided into 8 utility-scale photovoltaic installations across seven departments.
Zurich / Sophia-Antipolis, February 12th, 2014: SUSI Partners AG ("SUSI") successfully structure SUSI Sustainable Euro Fund I's investment into project ThirdStep France, a 39 MWp French photovoltaic power portfolio developed and minority-owned by Altus Energy SAS ("Altus") and Solaïs SAS ("Solaïs").

SPIE Sud-Ouest will manage the construction consortium, employing CSUN modules, Ingeteam inverters, SDF mounting equipment and Schneider Electric transformers. The projects are divided into 8 utility-scale photovoltaic installations across seven departments. Two French banks will act as the senior lenders. Construction is ongoing with all the sites expected to be operational before May 2014.
Otto von Troschke, SUSI CIO: "We are proud to be part of such a significant achievement especially considering that France only saw 740 MWp of photovoltaic capacity growth in 2013. This project will further strengthen our market position in France and underlines our track record and experience in the investment management of large-scale photovoltaic portfolios. We are thrilled to have Altus Energy and Solaïs remain key partners in the project – their expertise and professionalism is unrivaled in France. "
Mathieu Debonnet, Altus President: "ThirdStep France represents an exceptionally large multi-megawatt portfolio we are developing with Solaïs. Having SUSI Sustainable euro Funds as the equity partner was vital to finalize the deal. We are pleased to share this accomplishment with them, and look forward to many more successful collaborations with SUSI in the coming years."
Nicolas Thévenin, Solaïs Managing Partner: "Solaïs is honored to partner with SUSI and Altus on this pipeline. We provide and operate one of the best in class monitoring solutions to actively monitoring the portfolio's performance. Given our technical consultancy background, we are thrilled to employ such precision level monitoring solutions to further establish ourselves a principal expert."
Featured Product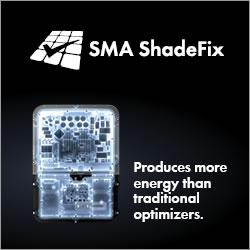 A recent university study showed SMA ShadeFix optimization produces more energy than traditional optimizers. It also utilizes far fewer components, reducing the need for costly service visits. Systems with ShadeFix optimization and SunSpec certified shutdown devices are the ideal solution for residential and commercial PV systems. Visit SMA's website to learn more and download the whitepaper.