The world's most populous country spent $4.3bn in 2013, part of that going on the installation of 62m smart meters, while US investment declined
London, 18 February 2014 ‒ Global smart grid investment reached $14.9bn in 2013, up from the $14.2bn recorded in 2012, according to the latest authoritative figures from research company Bloomberg New Energy Finance. China finished the year as the world's largest smart grid market, exceeding the US in dollar investment for the first time as the North American market continued to slow.

Smart metering accounted for just under half of the total smart grid spending worldwide, with distribution automation and other integrated demonstration projects rounding out the total.
China spent $4.3bn on smart grid in 2013, with a large part of that going on the installation of 62m meters. China now has just under 250m smart meters installed but has indicated that it will push out the end-date for completing its metering programme from 2015 to 2017. China now has more than twice as many smart meters installed as the total number of households in the US.
Meanwhile, US smart grid spending is slowing down. The North America market shrunk significantly in 2013, falling 33% to $3.6bn as the last of the US stimulus-funded projects wound down.
There were promising signs in 2013 on smart metering in several key European markets, including a large metering contract in the UK, a new tender in France and completion of the long-awaited cost benefit analysis in Germany. Japan's utilities are in the tendering and procurements stages of their deployments while Brazil's smart metering roll-out is being delayed by certification and financing challenges.
Distribution automation ‒ or the use of technology to locate and automatically fix faults and to fine-tune voltage levels on the grid ‒ continued to grow last year. Global spending on distribution automation increased to $5.4bn from $4.4bn in 2012 driven by renewed interest in renewable integration and grid reliability in China, the US and Europe.
Bloomberg New Energy Finance sees the following developments in 2014 and beyond:
- Asia still has years of growth ahead. Despite China's recently announced slowdown in meter installation, China's 5-10 year meter replacement cycle means that as this major wave of installations finishes in 2017, the first wave of replacements is expected to commence. 2014-15 will bring also an increase in distribution automation spending in China while smart grid activity in Japan, Korea, India and South East Asia will also ramp up.
- The US is entering a second major smart grid phase: information integration. With its growing penetration rates for smart meters and distribution automation, the next phase for the US smart grid is using the new data coming in off the grid to improve areas like outage management, customer segmentation and theft detection.
- Europe is the smart grid's sleeping giant. Europe has installed only 55m smart meters but this is expected to rise sharply to 180m by 2020. Spain will remain as the most active market in 2014 but large-scale deployments in the UK, Germany and France will begin to ramp up in late 2015.
Bloomberg New Energy Finance sees strong support for further smart grid investment. Colin McKerracher, senior energy-smart technologies analyst at Bloomberg New Energy Finance, said: "Global investment in the smart grid increased relatively modestly last year after five years of rapid growth. But the fundamental drivers of the smart grid – greater grid reliability, further integration of renewable energy, and improved demand-side management – are stronger than ever.
"Asian and European markets will drive growth through 2020, while in North America the focus will continue to shift from hardware to software as utilities look to squeeze additional value out of the vast amounts of grid data now available."
Bloomberg New Energy Finance's data on smart grid investment are collected by its teams of analysts and researchers in Japan, China, the US, Brazil and Europe, and aggregated in London.
Featured Product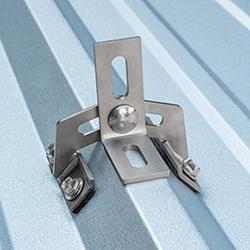 They have been changing the game for 10 years with their original Top Mount line for Asphalt Shingle roofs, and by now supplying one of the widest ranges of solar mounts in North America. From their patented products, to the custom production services they offer, QuickBOLT has been working with solar installers for nearly a decade to make solar installations easier than ever before.