Report highlights solar industry marketing insights and innovations
Washington, DC— Eco Branding, a boutique integrated marketing communications firm that specializes in clean technology, is publishing the first Solar Marketing Outlook industry report.

The report will help companies optimize their online and social media platforms with a thorough analysis of current trends and successes in the industry. Companies will be able to utilize the detailed report to stem growth at the company level, which will ultimately enhance the quality of solar and cleantech marketing.
The 2014 Solar Marketing Outlook report was created to give solar companies unique insight into how their competitors are spending marketing dollars. The study surveyed and interviewed hundreds of clean technology professionals across the United States.
"There is an abundance of marketing data available to companies, but very little data that is hyper specific to the solar industry," said Eco Branding CEO and founder Jake Rozmaryn. "If this industry wants to be successful, solar firms will need to pay more attention to innovative marketing strategies. This is essential for continued success and maturation. We hope this report is a step in the right direction and encourage industry feedback for the second edition."
The 2014 Solar Marketing Outlook report is available online.
About Eco Branding
Eco Branding is an integrated marketing communications firm focused on the clean technology sector. Eco Branding offers public relations, marketing, branding, web development and event management services. Eco Branding partners with clients to develop their narrative, engage targeted audiences and increase brand exposure. Eco Branding's turnkey model allows us to provide highly responsive, first-rate services that save clients time and money.
###
Media Contact:
Danielle Kershner
dkershner@ecobrandit.com
201.500.5219
Featured Product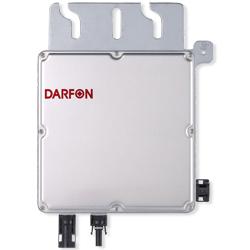 The Darfon G320 is the microinverter solution for today's high-power solar modules. The G320 handles 60- and 72-cell modules up to 350W DC and outputs up to 300W AC. The G320's 3-phase configuration accommodates the electrical distribution systems of most commercial buildings and to reduce, if not eliminate, the need for expensive transformers. The G320 comes in four voltage/phase configurations, so it can be installed in residential, commercial or utility applications.