SMA Solar Technology AG ---OMCO Solar ---Airgas USA, LLC ---Air Liquide Malaysia
TEMPE, Ariz.--First Solar, Inc. (Nasdaq: FSLR) has announced recipients of the company's 2013 NOVA award for outstanding performance by suppliers. The suppliers – SMA Solar Technology AG, OMCO Solar, Airgas USA, LLC and Air Liquide Malaysia Sdn. Bhd. – were recognized for providing enduring value to First Solar's manufacturing and EPC project activities.

SMA Solar Technology AG was recognized for their continued partnership with First Solar on a number of key strategic initiatives, including third party sales support, around the world, while maintaining quality and controlling costs.
OMCO Solar was recognized for demonstrating considerable manufacturing flexibility that accommodated First Solar's dynamic EPC project schedules in North America.
Airgas USA, LLC was recognized for ensuring continued, uninterrupted supply of manufacturing materials to First Solar's Perrysburg production facility, as well as personal protection equipment and safety equipment, while remaining open to creative approaches to managing inventory and reducing costs.
Air Liquide Malaysia Sdn. Bhd. (ALM) was recognized for delivering an expanded nitrogen generation system in support of new manufacturing processes at First Solar's production facility in Kulim, Malaysia, and for supporting First Solar's requirements at competitive rates.
"Our suppliers play a critical role in fulfilling our mission to create enduring value by enabling a world powered by clean, affordable solar electricity," said Shellie Molina, First Solar's Vice President of Global Supply Chain. "We appreciate the exceptional efforts of these NOVA award recipients and the value they provide through the highest standards of quality, cost and performance in both the manufacturing and EPC environments."
First Solar estimates that its business operations support approximately 33,000 supply chain jobs on a global basis. The company established the NOVA Award in 2011 to honor suppliers who significantly support its mission.
About First Solar, Inc.
First Solar is a leading global provider of comprehensive photovoltaic (PV) solar systems which use its advanced module and system technology. The company's integrated power plant solutions deliver an economically attractive alternative to fossil-fuel electricity generation today. From raw material sourcing through end-of-life module recycling, First Solar's renewable energy systems protect and enhance the environment. For more information about First Solar, please visit www.firstsolar.com.
Featured Product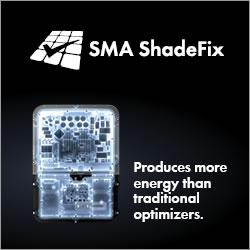 A recent university study showed SMA ShadeFix optimization produces more energy than traditional optimizers. It also utilizes far fewer components, reducing the need for costly service visits. Systems with ShadeFix optimization and SunSpec certified shutdown devices are the ideal solution for residential and commercial PV systems. Visit SMA's website to learn more and download the whitepaper.