Düsseldorf/Tokio, February 19, 2014. "Science meets business meets politics" – that is the motto of the first Energy Storage Summit Japan, which will take place on 5 November and 6 November, 2014, in Tokyo. Accompanied by a trade show, this special conference is the latest addition to Messe Düsseldorf's successful range of events in a highly attractive market: following the Energy Storage conference in Düsseldorf/Germany and similar events in San Jose, California/USA and Mumbai/India, this year's conferences, Energy Storage China (ESC) on 23 June and 24 June in Beijing, and the Energy Storage Summit in Japan, will welcome the most important target groups from the energy storage industry.

The Energy Storage Summit Japan features a one-day conference on 6 November, 2014 at the TKP Akasaka Conference Center, while the previous day involves visits to several companies. During the event, representatives from the Japanese energy industry, relevant ministries and authorities, research institutes and associations will meet international representatives from the industry, research and politics.
A meeting of this kind is particularly important as the envisaged liberalization of the Japanese energy market in 2016 will bring about significant changes and open up new possibilities for the energy storage and energy management segment. In January 2012, the Ministry for the Industry METI set up the "Storage Battery Strategy Project Team", which focuses on the promotion of energy storage solutions (particularly batteries). The government expects the Japanese industry to represent 50% of the global battery storage market by 2020. In February 2013 the Japanese government launched an comprehensive action programme: over the next ten years, JPY 310 billion (about EUR 2.21 billion) are to be invested into state-run as well as private grid development schemes.
Werner Matthias Dornscheidt, CEO of Messe Düsseldorf GmbH, is convinced that the Energy Storage Summit Japan will be successful: "So far, Japan has no event that focuses exclusively on energy storage. Many Japanese companies and ministries told us that a special summit such as this one with the objective of an international exchange of information and the establishment of business relations would be highly welcome. There is a keen interest in the contributions of international experts, but also an awareness of the importance of domestic companies and research institutes, which are among the international market leaders. We are delighted that the Japanese Foreign Minister confirmed his support for the Energy Storage Summit Japan, which will promote the global exchange of information and intelligence on this important subject."
The Energy Storage Summit Japan is part of the "World of Energy Storage" chain of events initiated by Messe Düsseldorf. All conferences and trade shows in Germany, the US, India, China and Japan are based on the fact that energy generation and storage is an important issue that concerns the industry, science and politics all over the world. Hence, Messe Düsseldorf has started to export, adapt and advance the successful concept of the Energy Storage Düsseldorf.
The event hosted in Düsseldorf/Germany with the title "Energy Storage – International Conference and Exhibition for the Storage of Renewable Energies" will take place from 25 March until 27 March for the third time since its introduction. It has already become established as one of the most important conferences for the European energy storage industry: in March, more than 800 international experts and about 100 top speakers are expected. The event is accompanied by a special trade show with about 60 leading exhibitors presenting their solutions and products.
www.worldenergystorage.com
Featured Product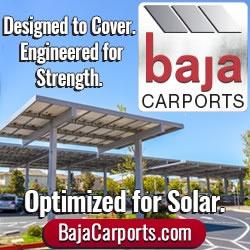 Baja Carports specializes in design-build Solar Support Systemsâ"¢ for mainframe carports & shade canopies. Our patented product line is designed in-house by Baja engineers. Product structures are pre-fabricated from pre-galvanized high-tensile, light gauge steel, and installed by Baja crews. Carports, RV/boat storage, EV stations, & ground mounts are customized to meet customers criteria. Baja's objective for each Solar Support Systemâ"¢ is to leverage optimal electrical production while maximizing coverage. Baja produces cost-effective carports for commercial businesses.