This will be the first clean energy project constructed on the Swiss Embassy in Japan.
SHANGHAI, Feb. 19, 2014 -- JinkoSolar Holding Co., Ltd. ("JinkoSolar" or the "Company") (NYSE: JKS), a leading global solar PV power product manufacturer, today announced that it has entered into an agreement with Premium Energy Co. Ltd ("Premium Energy") to supply photovoltaic modules to the Swiss Embassy in Tokyo, Japan. This will be the first clean energy project constructed on the Swiss Embassy in Japan.

According to the terms of the agreement, JinkoSolar will supply its distributor, Premium Energy, with 49.41kW of high-efficiency mono JKM270M-60-J 270W solar modules for the Swiss Embassy in Tokyo.
"We are pleased to have been offered a role in this special project with the Swiss Embassy in Tokyo and Premium Energy," commented Mr. Xiande Li, Chairman of JinkoSolar. "This is an iconic project in Japan. I'm glad to see that all parties involved share a mutual vision: optimize the energy mix and take responsibility for a greener future."
About JinkoSolar Holdings Co., Ltd.
JinkoSolar is a global leader in the solar PV industry with production operations in Jiangxi and Zhejiang Provinces in China and sales and marketing offices in Shanghai and Beijing, China; Munich, Germany; Bologna, Italy; Zug, Switzerland; San Francisco, the United States; Queensland, Australia; Ontario, Canada; Singapore; Tokyo, Japan and Cape town, South Africa.
JinkoSolar has built a vertically integrated solar product value chain, with an integrated annual capacity of approximately 1.5 GW each for silicon ingots, wafers and solar cells and approximately 2.0 GW for solar modules, as of December 31, 2013. JinkoSolar sells electricity in China and distributes its solar products to a diversified customer base in the global PV market, including Germany, Italy, Belgium, Spain, the United States, Eastern Europe, China, India, Japan, South Africa, and other countries and regions.
To find out more, please see: www.jinkosolar.com
Featured Product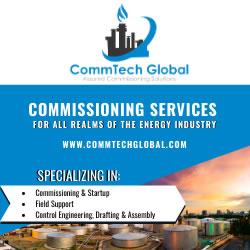 CommTech Global Solutions, LLC, provides professional and reliable commissioning services to customers in all realms of the energy industry. We blend our skills in engineering and technology with innovative business models, offering a complete range of services to assist you for a successful and in compliance operational startup. Consolidation of all our service domains gives our clients a comprehensive set of expertise and far-reaching experience on each project.