The modules will power a ground-mounted project on 63.5 acres of land in Wiltshire, England.
LONDON, Feb. 20, 2014 -- ReneSola Ltd. ("ReneSola") (NYSE: SOL), a leading brand and technology provider of solar photovoltaic (PV) products, today announced it is supplying 13MW of its high-efficiency Virtus and Virtus II polycrystalline solar modules to Low Carbon, a UK-based investor in renewable energy developers and projects. The modules will power a ground-mounted project on 63.5 acres of land in Wiltshire, England.

ReneSola will ship the modules from its warehouse locations in Poland and India to the new solar park in Wiltshire. Delivery of the modules is underway and will continue over a five-week period. The new solar park will generate enough clean energy to power more than 3,800 homes per year, based on estimates by the UK energy regulator Ofgem.
"A key aspect of all of Low Carbon's solar park investments is to ensure that high-quality equipment is used to maintain our drive for high efficiency," said John Cole, chief investment officer of Low Carbon. "We look forward to working with ReneSola on the Wiltshire project."
"We are excited to have been selected to provide our high-efficiency polycrystalline modules to this new solar park project in collaboration with Low Carbon," said Ian Glover, general manager of ReneSola UK. "We are confident that our high-quality solar products will benefit this solar park project, homeowners, and the environment. Our office in the UK and further investment in research and development will better meet energy needs in the UK, which we expect will become the largest solar market in Europe."
About ReneSola
Founded in 2005, ReneSola (NYSE: SOL) is a leading brand and technology provider of solar PV products. Leveraging its proprietary technologies, economies of scale and technical expertise, ReneSola uses in-house virgin polysilicon and a vertically integrated business model to provide customers with high-quality, cost-competitive products. ReneSola solar modules have scored top PVUSA Test Conditions (PTC) ratings with high annual kilowatt-hour output, according to the California Energy Commission (CEC). ReneSola solar PV modules can be found in projects ranging in size from a few kilowatts to multi-megawatts in markets around the world, including the United Kingdom, United States, Germany, Italy, Belgium, China, Greece, Spain and Australia. For more information, please visit www.renesola.com.
About Low Carbon
Low Carbon is a privately owned investment company, committed to the development and operation of renewable energy power production. Low Carbon invests into both renewable energy developers and projects across a range of renewable energy technologies including wind, solar and anaerobic digestion. Low Carbon has a strong management team with a proven track record in development, construction, financing and management of UK solar assets, with over 180MW funded and in construction and operation today. Low Carbon remains involved in the projects for the long term. Low Carbon has a dedicated asset management team that currently manages assets on balance sheet and for third parties (unlisted and listed).
Featured Product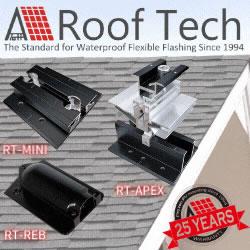 Now Roof Tech brings you the most innovative, watertight mounting systems ever developed for solar photovoltaic systems. Designed and manufactured exclusively for us by Japan's longtime leader in roofing technologies, Roof Tech products are 100% code-compliant and offer fast, simple installation and huge savings on shipping costs due to their compact, rail-less design. Learn more about our full line of versatile PV mounting solutions now available for residential installations. The next generation in rooftop solar mounting solutions."