Chandler's Roofing, a top GAF Master Elite™ Contractor in Los Angeles and Orange County, CA, has been selected as the first GAF Solar Elite Contractor™ in Southern California, bringing together industry-leading solar services and roof warranty options to offer to their customers.
Chandler's Roofing, one of Southern California's most prestigious roofing contractors, announced today the expansion of their solar business through a strategic alliance with GAF and its Solar Elite Contractor™ program. The new relationship provides leading solar offerings for Chandler's customers in Southern California while providing customers with additional financing mechanisms, first-in-class service, and GAF's Golden Pledge® Limited Warranty Addendum for solar racking systems on their rooftops.

"Chandler's Roofing was selected as our first GAF Solar Elite Contractor™ in the Southern California region because of their high quality, outstanding service, and commitment to leading the region in modern, solar roofing system offerings," stated Anthony Ruffine, Vice President of Solar, Sustainability, and Strategic Marketing for GAF. "The fact that Chandler's Roofing is one of our leading Master Elite™ Contractors in Los Angeles and Orange County—an honor given to only the top 3% of all professional roofing contractors in the country—and now is leading the way as our first GAF Solar Elite Contractor™ in Southern California, puts the company in a class by itself."
Chandler's Roofing is in the final stages of forming a new division, which will operate as Chandler's Solar Development; however, the solar solutions offered through GAF's Solar Elite Program are available immediately to Chandler's Roofing clients. This announcement comes on the heels of Chandler's recent acquisition of the Orange County roofing company Handley Development, Inc., and plays heavily into the vision of growth for Chandler's Roofing future: to provide industry-leading quality, service, and craftsmanship while offering the region's best warranties and modern solar roofing solutions.
"This is a very exciting time for Chandler's Roofing and we see tremendous growth potential in the solar roofing segment of our business," commented Brian Hicks, CEO of Chandler's Roofing. "By forming a strategic alliance with GAF, the roofing industry's leader, and creating a new division of Chandler's focused entirely on our solar growth, it gives us the ability to leverage our core business of roofing while providing our new solar customers with the same quality, support, service, and warranties that both GAF and Chandler's are known for."
The GAF Solar Elite program allows Chandler's Roofing to provide its customers in Southern California with flexible, affordable financing options for incorporating solar into their new or existing roofing system. The integration of roofing and solar is key to the GAF Solar Elite program and ensures that the installation is completed by a high-quality roofing professional—like Chandler's Roofing—who understands the requirements of properly weather proofing and warranting the rooftop while reducing customers' electricity bills. "We executed this strategic alliance with GAF because GAF carries our same vision for solar," replied Trevor Leeds, President of Chandler's Roofing. "We believe that having a professional roofing contractor and industry-leading roofing manufacturer backing the roof is the proper solution and approach for customers. Our history with GAF is exceptional, and we're confident that our customers will appreciate the service and warranties that we will now be able to offer them."
About Chandler's Roofing:
Originally established in 1942, Chandler's Roofing has been recognized as the premier Southern California roofing contractor, winning leading industry awards such as 2011 Roofing Contractor of the Year and 2010-12 Angie's List Super Service Awards, and earning the prestigious Master Elite™ Roofing Contractor status with America's largest roofing manufacturer, GAF. With a long history in high-quality craftsmanship, Chandler's Roofing is skilled in multiple residential, commercial, and industrial new and re-roof applications, providing complete roofing, solar, rain gutter, insulation, skylight, and custom sheet metal solutions to its clients. For more information about Chandler's Roofing, visit http://www.chandlersroofing.com.
About GAF
Founded in 1886, GAF has become the largest roofing manufacturer in North America. The company's products include a comprehensive portfolio of steep-slope and commercial roofing systems, which are supported by an extensive national network of factory-certified contractors. Its success is driven by its commitment to Advanced Quality, Industry Expertise, and Solutions Made Simple for contractors, specifiers, and property owners alike. In 2011, GAF was the first roofing manufacturer to offer a Lifetime limited warranty on all of its laminated shingles and, in 2012, it introduced the GAF Lifetime Roofing System.
With a focus on social responsibility, GAF has developed Advanced Protection® Shingle Technology, which provides superior durability and wind resistance while reducing the use of scarce natural resources. The company has also developed single-ply and asphaltic membranes with superior durability and high reflectivity to meet the most rigorous industry standards while helping commercial property owners and designers reduce energy consumption. For more information about GAF, visit http://www.gaf.com.
Featured Product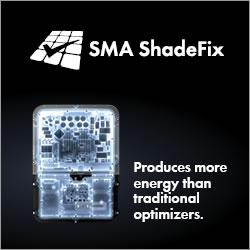 A recent university study showed SMA ShadeFix optimization produces more energy than traditional optimizers. It also utilizes far fewer components, reducing the need for costly service visits. Systems with ShadeFix optimization and SunSpec certified shutdown devices are the ideal solution for residential and commercial PV systems. Visit SMA's website to learn more and download the whitepaper.