EU must set binding, national 2030 renewables targets to reassure investors
Commenting on the news that the UK has slipped to 5th behind Japan in EY's Renewable Energy Country Attractiveness Indices (RECAI) [1], REA Chief Executive Dr Nina Skorupska said:

"It is not surprising to see the UK slip a place in the rankings. Investors are already looking at projects post-2020 but they have no clear steer from the EU or the UK Government that they see a major role for renewables once the existing 2020 targets are met. Setting binding renewables targets for Member States will boost investor confidence, bring down capital costs faster and create jobs for British businesses."
Featured Product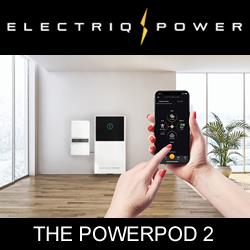 The Electriq PowerPod 2 is a fully-integrated home energy storage, management, and monitoring system powered by LFP batteries. The high-performance, cobalt-free product includes a hybrid solar/battery inverter controlled by intelligent software. The PowerPod 2 provides backup power and can self-consume or export excess power back to the grid.