Total Energy Ventures and Electranova Capital (EDF sponsored fund) join Bilfinger Venture Capital to support the Dresden-based high-temperature fuel cell and electrolyser pioneer sunfire GmbH
sunfire GmbH – a Dresden-based developer of high-temperature fuel cells, electrolysers and a pioneer in the fields of Power-to-Liquids and Power-to-Gas – has successfully completed a high seven-figure Series B financing.

The new round is supported by two new investors: Total Energy Ventures – the venture capital arm of the French energy group and Electranova Capital – the venture capital fund managed by Idinvest Partners and sponsored by one of the largest European utilities EDF as well as by Allianz. The new round of financing will help sunfire consolidate its position as one of the most advanced and credible technology enablers in the current energy transition in Europe and beyond. Also, sunfire offers a novel route for a decarbonized energy mix.
sunfire develops high-temperature fuel cells (SOFC) which convert gas into electricity and heat for several markets (Micro CHP, off-grid, marine, IT servers, etc.) as well as high-temperature electrolysers (SOEC) which produce hydrogen used in Power-to-Gas and Power-to-Liquids installations, industrial sites and
H2 mobility.
The 70 person strong team and its new investors aim to accelerate sunfire's product road-to-market and tap broader markets. To achieve this, sunfire will now benefit from Total and EDF extensive footprint and networks as well as the financing required to deliver the company's considerable growth potential.
Nicolas Chaudron, Partner at Electranova Capital managed by Idinvest Partners indicates: "Electranova Capital will not only ensure the financial security of sunfire's ongoing expansion strategy, but also provide access to new markets and applications with the support of EDF Group our main sponsor. The key factors in our decision to invest were the firm's unique technology, their portfolio of large international clients as well as the high quality of the team"
Carl Berninghausen, CEO at sunfire GmbH explains: "We are pleased to welcome Electranova Capital and Total Energy Ventures on board, and stand to benefit from the strategic and technical expertise of our new partners. Their investment rubberstamps the excellent work put in by our employees".
Dr Karl Ludwig Kley, Managing Director at Bilfinger Venture Capital GmbH, adds: "Bilfinger sees this as an endorsement of its commitment to sunfire, and welcomes the arrival of the new investors. This early acquisition of top tier international players underlines the firm's potential."
Featured Product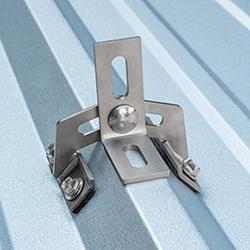 They have been changing the game for 10 years with their original Top Mount line for Asphalt Shingle roofs, and by now supplying one of the widest ranges of solar mounts in North America. From their patented products, to the custom production services they offer, QuickBOLT has been working with solar installers for nearly a decade to make solar installations easier than ever before.