Advanced Biofuels to be Featured at the International Biomass Conference & Expo
ORLANDO, FL – (Feb. 22, 2014) – Reported in Biomass Magazine, the Chinese government has approved a biobased aviation fuel for commercial use. On Feb. 12, the Civil Aviation Administration of China published a notice announcing it has granted Sinopec the first certificate of airworthiness for biobased jet fuel. According to information published by the aviation administration Sinopec filed the application for the certificate in February 2012.

A statement released by the CAAC indicates the biojet complies with the CTSO-2C701. Information published by the CAAC in mid-2012 indicates the standard applies to civil aviation jet fuel containing synthesized hydrocarbons. According to information published on the standard, it require alternative fuel and its synthetic paraffinic kerosene (SPK) component to conform to ASTM D7566-11a, which is a specification for aviation fuel containing synthesized hydrocarbons, and the supplement in CTSO-2C701.
In April 2013, Sinopec announced the success of the first test flight powered by its aviation biofuel. According to the company an Airbus A320 owned by China Eastern Airlines completed an 85-minute flight on biojet made from palm oil and recycled cooking oil feedstocks.
The topic of advanced biofuels is one of the program tracks available to attendees at the International Biomass Conference & Expo, taking place March 24-26 in Orlando, FL. Track Four titled, Advanced Biofuels & Biobased Chemicals will focus exclusively on the drive towards the widespread commercialization of second generation biofuels and biobased chemicals. Attendees closely following this track will get an inside look at the commercialization efforts and technology pathways of tomorrow's advanced biofuels leaders. In addition to the track, Michael McAdams, President of the Advanced Biofuels Association will be speaking during the General Session. You can view the online agenda at www.BiomassConference.com.
About BBI International:
Founded in 1995, BBI International produces globally recognized bioenergy events and trade magazines. In addition to the International Biomass Conference & Expo and its allied regional events, BBI owns and operates the largest, longest-running ethanol conference in the world -- the International Fuel Ethanol Workshop & Expo (FEW) -- and the National Advanced Biofuels Conference & Expo. The company publishes Biomass Magazine, Ethanol Producer Magazine, Pellet Mill Magazine, and Biodiesel Magazine, as well as a number of ancillary products including maps, directories, e-newsletters and other web-based industry resources.
Featured Product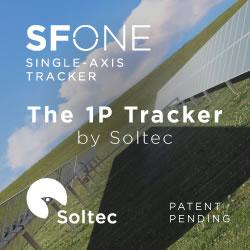 Under the slogan "engineered for greatness", the SF8 tracker aims to revolutionize the photovoltaic market with its new minimum 2x60 configuration and 4 to 6-strings. This tracker is elegantly designed while it reinforces its structure to perform in any terrain. In addition, the SF8 tracker increases the rigidity of its structure by 22% more than the previous generation of Soltec trackers, the SF7. The SF8 is specially designed for larger 72 and 78 cell modules, an increasing market trend.