Firstly, the alliance will open up a cheaper supply of components to SMA via Danfoss' much greater purchasing power.
Today's announcement that Danfoss would sell its entire solar inverter business line to SMA and in return acquire a 20% share of SMA for just over Ä300m highlights the on-going consolidation of the European solar manufacturing business in a declining domestic market. The tie-up does not come as a huge surprise given the struggles the industry currently faces as it deals with a shrinking European market, rapid price declines but conversely booming overseas demand.

Combined, SMA and Danfoss held an 25% share of the global solar inverter market in 2013 (down from 35% in 2012) and more than 35% of the European market. This tie-up undoubtedly strengthens their position but also provides SMA with other benefits.
Firstly, the alliance will open up a cheaper supply of components to SMA via Danfoss' much greater purchasing power. This alone will drive down SMA's bill of materials; if in addition SMA has access to Danfoss' manufacturing facilities this will further allow SMA to drive down costs using Danfoss' economies of scales. This will become even more critical to manufacturers as government incentives for solar continue to drop and competition from low-cost Chinese vendors intensifies.
Secondly, this deal allows SMA to take advantage of Danfoss' design and manufacturing expertise. Technically, solar inverters are very similar in design to drives which Danfoss has manufactured for more than 40 years and according to IHS was the 5th largest supplier of these products globally in 2012. Danfoss' background in the drives industry allowed it to very quickly make advances in the solar inverter industry and was one of the first suppliers of three-phase string inverters which revolutionised commercial solar projects. This experience and know-how will likely prove incredibly valuable as SMA seeks to advance inverter designs whilst driving down costs.
Thirdly, as the solar industry globalises and new end-markets appear in a vast number of emerging countries, suppliers of solar products will need to have a global footprint, not just for sales but perhaps more importantly for after-sales service. Whilst SMA was already the largest solar inverter supplier prior to this deal with a presence in most of the key markets, this deal will further strengthen this position. Danfoss has more than 23,000 employees in 51 countries and will allow SMA to more effectively serve the quickly developing emerging markets of Latin America, Middle East and Asia.
Having an investor such as Danfoss holding a 20% share, with a no buy/sell lock-up period for two years will also provide SMA with some much needed, albeit short-term stability amid fears of other European suppliers facing bankruptcy and acquisition. Despite all of these advantages that this deal presents to SMA, it will undoubtedly face on-going challenges:
There is considerable overlap between SMA's and Danfoss' inverter business. Both were largely focussed on the European market with 55-60% of their 2013 business coming from this region. They also have a very similar product line-up, both with particular strength in three-phase string products for commercial and utility-scale PV installations.
Despite access to Danfoss' enhanced procurement, SMA will still face intense challenges from low-cost suppliers from China who benefit both from low-cost components sourced in China and also huge economies of scale given their booming domestic market. Furthermore, this tie-up with Danfoss will not improve SMA's position in the China and Japan solar markets which will account for nearly 50% of all PV installations in 2014. In the past two years this had been one of the biggest weaknesses of SMA as it had little presence in these booming markets. Unfortunately Danfoss has also had limited success in China and Japan and this alliance is unlikely to help them see a significant improvement in addressing these important markets.
Danfoss' solar inverter business, that was almost entirely focused on Europe struggled in 2013 as its core markets dwindled. Whilst it was ranked as the 5th largest supplier of solar inverters in 2012, it fell to outside the top 20 in 2013 according to IHS' latest analysis. Similarly, SMA's global share of the inverter market fell from 30% in 2012 to around 23% in 2013.
Featured Product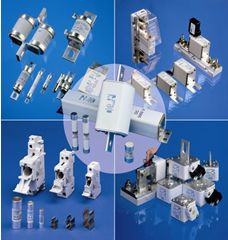 SIBA Fuses: your trusted source for all your circuit protection applications, from solar power to wind power. We are the world leaders in these applications and the most trusted name for your circuit protection needs. We have been working for over 70 years in semiconductor fuses, including ULTRA RAPID®, medium, and high voltage, standard European, miniatures, electronic fuses, and a wide range of DC rated fuses (24 VDC - 5000 VDC) for all types applications. We work with medium and high voltage fuses for protection of transformers, including submersibles, motors, medium and high voltage switchgear, compact substations, cable feeders, and high voltage capacitor circuits. New: Full line of PV UL Listed fuses and fuse holders. Contact us today for more information on our products and services.