Terry Anderson, owner of TRA Snow and Sun, has been awarded a US Patent for a clamp-on bracket used in retaining snow or attaching solar panels on metal roofs
Terry Anderson, owner of TRA Snow and Sun, Inc. of American Fork, Utah, received a US Patent for one of his latest inventions, a clamp-on bracket for use in retaining snow and solar panels on metal roofs. Anderson also has two other patents. He invented the original Snow Bracket for retaining snow on tile roofs as well as the Ridge Riser® which is used to attach and elevate the ridge board to increase ventilation and provide more strength for high wind resistance.

The new clamp-on bracket can be used for securing roof snow fences, attaching solar panels, mounting conduits on a roof and creating roof platforms without penetrating the roof system.
Retaining snow on roofs is important due to the obvious danger created when heavy snow and/or ice avalanches. Such avalanches can cause injury or death to people and damage to property. Since metal roofs naturally have a slippery surface, it is especially critical to install a snow retention system. However, metal roofs pose attachment issues different from other roof types. Attaching a snow retention device to a metal panel, particularly on a standing seam roof, must be done without penetrating the roof system due to the risk of causing a leak and also to protect the manufacturer's warrantee. Metal roofs expand and contract with temperature changes, so in most cases, fixing the panels with fasteners will void manufacturer's warrantees. Hence, the clamp-on style of attachment is preferable.
C21Z Clamp On under the hemC21Z Clamp On under the hemAnderson's extensive background in roof snow retention for all roof types lead him to recognize deficits in other clamp-on type brackets. He frequently encountered damage caused during installation when set screws were fastened to the seam of the panel, damaging the painted surface of the seam. He also wanted to prevent heavy snow load forces from twisting the panel ribs when the brackets were attached on top of the hem.
This clamp-on bracket is unique from others in several aspects. It is modified to work on both snap-lock and mechanical standing seam types by attaching under the hem, which prevents the twisting often seen in brackets attached above the hem. The 4-inch width of the clamp provides much more contact with the standing seam than most other clamps, which provides greater strength, needed in heavy snow areas.
The use of dissimilar metals such as aluminum clamps on a steel roof can cause corrosion, something no one wants to see on any roof. So this new bracket employs two carriage bolts made of the same metal as the bracket and the roof which, when tightened, crimp the bracket but do not come into contact with the panel at all. When the bolts are tightened, four dimples on each side of the clamp squeeze the rib, creating a snug attachment and preventing the clamp from sliding down or off the rib.
Anderson states, "It's also important when creating a snow retention system on any roof, that the snow load, slope and other factors are taken into consideration and that the system is engineered with those factors in mind. I'm pleased with the new clamp-on bracket. It not only solves problems I've seen with other clamp-on snow retention designs, but can be used as part of a solar mounting system, mounting conduit on a roof or to create roof platforms all without penetrating the roof system."
US Patent No. 8,607,507 issued Dec. 17, 2013
Terry Anderson has been in the roof consulting and roof accessory business for over 30 years. He is a Registered Roof Consultant, member of TRI and co-author of Concrete and Clay Tile Roof Design Criteria Manual for Cold and Snow Regions and the owner of several roof accessory patents including the original Snow Bracket and Ridge Riser®. His company, TRA Snow and Sun, Inc., located in American Fork, Utah, offers Roof Snow Retention Devices, Solar Mounting Systems and Roof Flashing Solutions. They supply to all types of customers, from the individual homeowner to the big developer and free engineered designs of all their systems. For more information call Terry Anderson at TRA Snow and Sun at 800-606-8980 or visit www.trasnowandsun.com
Featured Product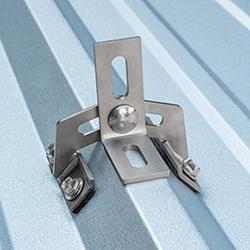 They have been changing the game for 10 years with their original Top Mount line for Asphalt Shingle roofs, and by now supplying one of the widest ranges of solar mounts in North America. From their patented products, to the custom production services they offer, QuickBOLT has been working with solar installers for nearly a decade to make solar installations easier than ever before.