Specialist consultancy cites staged development, coupled with ongoing data evaluation and analysis as key to wave and tidal sector sustainability
London and Belfast, 26th February 2014 – The steady, phased deployment of wave and tidal projects, together with thorough environmental survey data collection and analysis will enable the emerging marine energy sector to avoid the pitfalls currently being experienced in offshore wind.

Moreover, with regulatory project approval and consent having slowed significantly in recent months, it's only through demonstrating a truly flexible and adaptable approach that the wave and tidal market will experience any real level of sustained and commercially viable growth.
That is according to recent findings from TÜV SÜD PMSS, the specialist renewable energy consultancy that forms a key part of one of the world's leading technical services corporations.
The findings that formed a part of a recent research project undertaken in conjunction with a number of leading industry associations and bodies, consider the so-called 'big three' challenges currently facing consent and deployment, namely fish and shellfish ecology, marine mammals and ornithology.
The research – that for the first time consolidates the current understanding of known impacts that these energy schemes may have on the marine environment – is timely, given the increasing need for developers and regulators to work closely together to overcome future sector uncertainty.
Commissioned by industry bodies RenewableUK, Scottish Renewables and the Natural Environment Research Council, the research papers highlight a number of significant market observations and trends.
First, that the wave and tidal industries cannot adopt a one-size-fits-all approach by standardising impacts for the wide range of devices employed across the sector.
And second, that, with a much more diverse technology range than offshore wind, addressing uncertainty in the evidence-base surrounding environmental issues in wave and tidal through the steady, phased project deployment enables the market to continually readjust. This enables critical market maneuvering as market confidence builds.
"In offshore wind, we've seen large-scale projects coming through the planning and consenting process at a rate which is not conducive to a full understanding of environmental impacts," said Dr. Steve Freeman, Director of Environment at TÜV SÜD PMSS.
"Consequently, when it does come to commercial-scale deployment, regulators are becoming over-precautionary as they seek to avoid costly errors.
"In wave and tidal, we have the opportunity to act now and ensure that uncertainty at this early stage drives timely and comprehensive study of impacts on fish and shellfish, marine mammals and birds, rather than lingering on into the latter phases of project development, where it can cause costly delays.
"As such, at TÜV SÜD PMSS, we'd like to stress the importance of a phased approach to wave and tidal development. The diversity of technology involved means that we cannot assess all impacts in generic terms as is possible with offshore wind.
"The current 'survey-deploy-monitor' ethos we have in place will ultimately serve to ensure the long-term stability of marine energy in UK waters," he added.
With this significant research, TÜV SÜD PMSS has reinforced its position as a leading provider of innovative environment and consenting services to the developing wave and tidal industry.
The work has already resulted in three published wave and tidal consenting position papers, Marine Mammals Impacts, Impacts on Fish and Shellfish Ecology and Ornithological Impacts, available for download from the RenewableUK, Scottish Renewables and Natural Environment Research Council websites.
Dr. Steve Freeman will be presenting the findings of these papers at RenewableUK Wave and Tidal 2014 in Belfast on Wednesday 26th February 2014 at 4pm.
Featured Product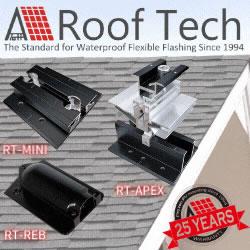 Now Roof Tech brings you the most innovative, watertight mounting systems ever developed for solar photovoltaic systems. Designed and manufactured exclusively for us by Japan's longtime leader in roofing technologies, Roof Tech products are 100% code-compliant and offer fast, simple installation and huge savings on shipping costs due to their compact, rail-less design. Learn more about our full line of versatile PV mounting solutions now available for residential installations. The next generation in rooftop solar mounting solutions."