SimpleRay and Midwest Renewable Energy Association (MREA) team up for inaugural solar conference
Minneapolis, MN — SimpleRay, a leading distributor of solar energy products, is sponsoring the inaugural Midwest Solar Expo at the Downtown Minneapolis Hilton on May 16th.

A hybrid event designed for businesses and consumers, the Midwest Solar Expo will provide networking opportunities for hundreds of solar executives, investors, strategic partners and adopters. The conference will feature more than 30 exhibitors, nine breakout sessions focusing on solar finance and market opportunities, five networking breaks and a cocktail reception. Additionally, MREA is providing NABCEP accredited training for installers.
The Midwest Solar Expo will feature keynote speaker John Farrell of the Institute for Local Self-Reliance, in addition to other notable local and national figures to be announced in the coming weeks.
Consumers interested in solar can take part in a unique "Solar 101" education track discussing solar panels, opportunities, financing and more. Attendees will have the chance to interface with solar leaders that understand how to capitalize on solar investments.
"The Midwest market is where the East and West coast markets were back in 2005," said SimpleRay CEO Geoffrey Stenrick. "As these markets mature, the need for dialog, education and training becomes increasingly more important to ensure long-term economic growth."
The Midwest Solar Expo will be the foremost educational resource for solar in the Midwest. Minnesota is rapidly becoming a leading state for solar incentives, paving the way for neighboring states.
If you are interested in sponsorships or registration, contact Danielle Kershner at info@midwestsolarexpo.com. Learn more at www.midwestsolarexpo.com and register today. Follow @MWSolarExpo on Twitter.
About Midwest Solar Expo
The Midwest Solar Expo is an annual conference that brings together consumers and businesses in the solar industry. Founded in 2014, the expo's sole purpose is to advance the solar industry through education, training and networking.
About Eco Branding
Eco Branding is a Washington, D.C.-based marketing communications agency that specializes in clean technology. We offer a wide array of consulting and advisory services in the areas of public relations, marketing, media, branding, research, web, lead generation and event management.
###
Media Contact:
Danielle Kershner
Eco Branding for Midwest Solar Expo
dkershner@ecobrandit.com
Featured Product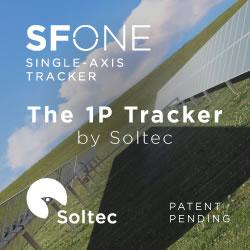 Soltec manufactures and supplies solar trackers designed and proven for extreme climate conditions, which is an ideal solution for any region's environment. Soltec's trackers are self-powered, requiring no additional PV module or grid-powered connection. Bifacial modules collect energy on both the front and rear sides, capturing reflected irradiance from the ground surface under and around the tracker and from other modules. Depending on site conditions, bifacial yield-gain can reach +30 percent.