In an interview Peter Davidson, the Executive Director of the Loan Programs Office (LPO) told CSP Today there are huge opportunities for US companies to take what they have learnt from major projects in the U.S. and start exporting overseas.
In an interview with CSP Today, Davidson reflected on the LPO funding of over $5.4 billion to utility scale Concentrated Solar Power (CSP) projects such as Ivanpah, Solana and Crescent Dunes. The comment comes at a time of high profile developments for CSP in the U.S, with Secretary of Energy Dr. Ernest Moniz's opening of the Ivanpah plant on 13 February capturing global headlines.

When asked about the future prospects of CSP now the technology was proven on a commercial scale Davidson said that, "When we speak to the CSP developers, I think they are finding that there is going to be great opportunity for them to take the technology, take the learning from the US and the projects they have built here and really start exporting that for projects overseas."
Davidson also spoke about the crucial storage capabilities which CSP has in addressing night-time peak demand spikes and used Abengoa's Solana project as an example. 'The whole mission for the renewable industry is: Is there a way we can develop a night time solar capability? And the reason I am so excited about Solana is just that. We have created six hours of night time solar', he explained.
Davidson also spoke in detail about the LPO's latest $8 billion solicitation for innovative advanced fossil fuel projects which will allow the hybrid potential of CSP to flourish and he is firmly focused on the further deployment of CSP - 'There is no question anymore that multi-hour storage connected to CSP works. Now we all have to focus on how we make sure that there is further deployment of CSP facilities'.
The interview with Peter Davidson can be read in full here: http://goo.gl/n1xBcf
Douglas Schultz, Director of Loan Guarantee Origination for the U.S. Department of Energy's LPO, will be a key speaker at CSP Today USA 2014 (5-6 June, Las Vegas). Mr Schultz will discuss achieving finance for domestic CSP projects and answer audience questions on the new solicitation. At CSP Today USA 2014 attendees will get the exclusive opportunity to hear from the developers involved in the landmark Solana, Ivanpah and Crescent Dunes projects, together with a utility perspective on the technology.
There will be an opportunity to visit the defining Ivanpah plant for delegates of CSP Today USA 2014 (5-6 June, Las Vegas) by the majority owners and operators NRG Energy. To learn more about CSP Today USA 2014 then please visit http://goo.gl/S7E7EN
About CSP Today
CSP Today is the reference point for CSP professionals and a cornerstone for communications within the industry. We provide business intelligence to the industry with focused news, events, reports, updates and information for the Concentrated Solar Thermal Power industry in markets such as India, South Africa, Spain, USA, Chile and the MENA region.
Featured Product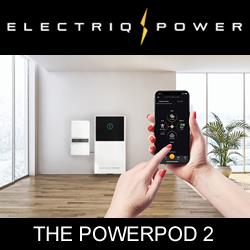 The Electriq PowerPod 2 is a fully-integrated home energy storage, management, and monitoring system powered by LFP batteries. The high-performance, cobalt-free product includes a hybrid solar/battery inverter controlled by intelligent software. The PowerPod 2 provides backup power and can self-consume or export excess power back to the grid.