With the influx of large solar farms being developed in the Ivanpah Valley, developers will need to look at security measures to protect their assets. A wide area thermal surveillance system like HGH Infrared System's Spynel could help in monitoring these vast and remote desert areas.
Cambridge, MA March 01, 2014

Last week, the United States Department of the Interior approved two additional solar projects in the Ivanpah Valley area of the Mojave Desert. These two projects together will occupy over six square miles of public land, straddling the California-Nevada border. Both plants will employ photovoltaic solar arrays as a means to harness the sun's energy. Additionally, the output of both plants is expected to produce roughly 550 megawatts of renewable energy, enough to power over 150,000 homes.
The announcements come on the heels of the opening of the world's largest solar thermal power plant, the Ivanpah Solar Electric Generating System. The plant is situated about 40 miles southwest of Las Vegas and occupies approximately five and half square miles in the California Mojave Desert. After concerns about the environmental impact on a local species of desert tortoises (and the efficiency of solar thermal power as opposed to photovoltaic) the plant has officially begun providing power to Pacific Gas & Electric and Southern California Edison. At its highest output, the Ivanpah plant can ideally produce 392 megawatts.
These two announcements highlight an increasing trend in the production of large-scale solar farms in flat, remote areas. In fact, the two farms recently approved by the Department of the Interior are the 49th and 50th renewable energy projects on public lands to be approved by the Obama administration, as part of the Climate Action Plan. As solar technology improves, and production costs decrease, larger solar plants can be constructed on vast expanses of land, providing clean power to millions of Americans.
As more people come to rely on renewable energy sources, security becomes a larger issue. These often large, flat areas are difficult to monitor, and disruption of service must be avoided. One potential solution could be utilizing a long range, wide area, thermal surveillance system. This would provide continuous monitoring of a large area, and be able to detect movement and intrusion at long distances. The Spynel-U, is a rotating panoramic infrared thermal imaging camera that provides continuous monitoring of ultra-wide areas in real time through inclement weather. The Spynel-U, manufactured by HGH Infrared Systems, can detect a human at up to 2.5 km throughout the day and night. Coupled with an effective software system developed specifically for the Spynel-U, Cyclope, unlimited targets can be tracked and trigger alarms at certain distances. This would be an effective measure for solar plants to employ to prevent expensive equipment from being stolen and damaged.
As renewable energy solutions gain traction in the United States, large scale solar power plants are becoming more and more common and are occupying larger areas of land than in previous years. Utilizing effective long range detection and surveillance devices like the Spynel family can protect equipment and ensure consistent delivery of service to customers.
About:
Founded in 1982, HGH designs, develops, assembles and sells complete high end optronics systems for security, industrial and civil applications. HGH's team of highly qualified engineers is comprised of experts in optics, software, mechanics and electronics and operates in the US, out of Boston, MA. HGH strives to provide advanced and innovative infrared equipment to protect their clients all around the world, while keeping the agility and dedication of a small and passionate team. Speed, flexibility, technical excellence and innovation constitute their core values. HGH has established itself as an international reference for infrared technology innovation through the development of multiple advanced thermal sensors, among which its award-winning real-time 360 degree thermal camera, the Spynel-C - 2008 Product of the Year from Photonics Tech Briefs, 2010 Innovation Prize from the EuroNaval Committee, 2011 Kummerman Award from the French Academy of Marine, 2012 GovSec Platinum Award, and 2012 Govies Homeland Security Award.
Featured Product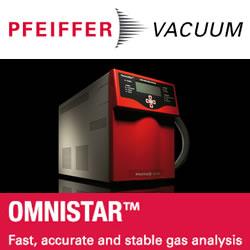 The Pfeiffer Vacuum OmniStar benchtop analysis system offers you a compact footprint, powerful software and Ethernet connectivity. It's the optimum solution for many real-time gas analysis applications. With the OmniStar, Pfeiffer Vacuum offers you a complete solution for gas analysis, in chemical processes, semiconductor industry, metallurgy, fermentation, catalysis, laser technology and environmental analysis. The turnkey OmniStar gas analysis system consists of heated, temperature-regulated gas inlet system, Quadrupole mass spectrometer, a dry diaphragm vacuum pump and HiPace turbopump. Unlike competing methods such as FTIR, OmniStar is suitable for qualitative and quantitative analysis of most gases.