Home Comfort Geo keeps customers updated on the growth and changes in the field of green, geothermal energy.
Canton, MO February 28, 2014

The green energy movements are always growing and expanding, but wind and solar typically get more attention than geothermal. Geothermal energy provides a resource that is unaffected by weather conditions, wind and solar are, and therefore offers a viable, green alternative with minimal environmental impact. According to DailyFinance.com, The Geothermal Industry Association (GIA) reported that 70 countries were in the development stages of 700 geothermal projects, which shows extreme growth relative to the mere 46 countries that were doing so in 2007.
DailyFinance.com also reports that Calpine is the largest producer of geothermal power, yielding 700 MW from its power plants at The Geysers in California. Calpine is working with the Energy Department at The Geysers on an EGS, enhanced geothermal system, project. An enhanced geothermal system is unique in that it is able to generate geothermal electricity without the need for naturally occurring resources, but rather in a method similar to fracking. Calpine has announced a new 10-year PPA (power purchase agreement) with the Sonoma Clean Power Authority. The purpose of this PPA is to provide 10 MW of power starting in May this year, and to increase in following years.
Consumers can expect residential applications of geothermal energy to grow as large scale geothermal power production expands. There is enormous savings potential with a home geothermal heating and cooling system, and other added benefits such as greater system longevity, quieter system operation, more even heating and cooling, supplemental hot water coverage, and the ability to lessen one's carbon footprint. For individuals interested in more information and products for residential geothermal heating, Canton homeowners rely on Home Comfort Geo's dealers.
About Home Comfort Geo
Home Comfort Geo is the leading source for geothermal statistics, technology, and innovation. Our dealers proudly serve residents throughout Illinois, Indiana, Kentucky, and Missouri.
Resource: http://www.dailyfinance.com/2014/02/27/3-ways-to-invest-in-this-hot-renewable-energy-tech/ , February 27, 2014
Featured Product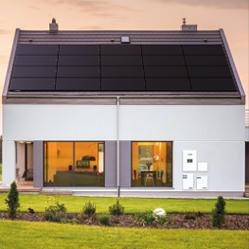 The Q.Home+ ESS HYB-G1 energy storage solution offers scalable storage capacity from 4.5 kWh up to 18.9 kWh and comes in a modular design for easy and fast installation. The system is offered in both DC-coupled and AC-coupled configurations and can connect up to 3 batteries in series using only one inverter and battery management system (BMS). The system includes an integrated backup power function for 100% of the rated inverter output to support critical loads in the event of power failure and offers remote monitoring using the QHOME+ web portal or QHOME+ ESS mobile app.