The market demands smaller footprint solutions for high voltage power semiconductors.
LEIDEN, Netherlands--IXYS Corporation (NASDAQ: IXYS), a leader in power semiconductor and IC technologies for energy efficient solutions, announced today the introduction of high voltage rectifiers with 2.2KV ratings in a new low cost surface mount type package, the D2-HV Pak (High Voltage TO-263).

The new products introduced are the DNA30EM2200PZ and DNA30E2200PZ.
The D2-HV Pak is a package solution that offers higher creepage spacing thus enabling higher voltage power semiconductors to be used as Surface Mount Devices (SMDs).
DNA30EM2200PZ and DNA30E2200PZ are single rectifiers offering a 30A rating at case temperatures of Tc = 140 degrees C and a 2200V reverse blocking capability. The "EM" version has the anode connected to the tab and the cathode connected to both pins of the package. For the "E" version one pin (and the tab) is connected to the anode and the other pin is the cathode.
"The market demands smaller footprint solutions for high voltage power semiconductors. By going to higher voltages, the device can deliver more power to the load with less current, thus reducing the conduction losses in copper wires in power control circuits; therefore, thinner copper conductors or traces on PCB circuits can be used. These SMDs improve energy efficiency, reduce cost, reduce size and reduce weight when used in power electronics," states Dr. Elmar Wisotzki, General Manager of IXYS GmbH.
SMDs are preferred as lower cost alternatives to modules and to other bulkier discrete components in integrated power designs. Fully automated PCB SMD assembly equipment can be used which reduces the manufacturing cost of high voltage power products. The new IXYS D2-HV Pak platform offers the standard footprint, but with compliance to the high voltage creepage specifications.
For the D2-HV Pak, the creepage distance between the terminal to the copper of the backside is greater than or equal to 4.70 mm. In addition to industrial power control applications, these devices target other 1.2KV to 2.2KV power supplies, UPS, renewable energy, motor drives and medical applications.
More IXYS products are now available in the D2-HV Pak:
- CMA30E1600PZ, a single SCR with 30A and 1600V, and
- DMA10P1600PZ, a phase-leg for diode bridges with 10A and 1600V.
For more detailed information, data sheets etc. visit our website under www.ixys.com or contact your local sales representative.
About IXYS Corporation
Since its founding, IXYS Corporation has been developing power semiconductors and mixed signal ICs to improve power conversion efficiency, generate solar and wind power and provide efficient motor control for industrial applications. IXYS and its subsidiary companies offer a diversified product base that addresses worldwide needs for power control in the growing cleantech industries, renewable energy markets, telecommunications, medical devices, transportation applications, flexible displays and RF power.
Featured Product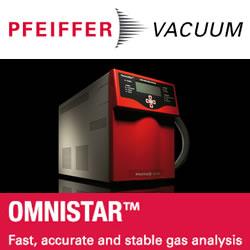 The Pfeiffer Vacuum OmniStar benchtop analysis system offers you a compact footprint, powerful software and Ethernet connectivity. It's the optimum solution for many real-time gas analysis applications. With the OmniStar, Pfeiffer Vacuum offers you a complete solution for gas analysis, in chemical processes, semiconductor industry, metallurgy, fermentation, catalysis, laser technology and environmental analysis. The turnkey OmniStar gas analysis system consists of heated, temperature-regulated gas inlet system, Quadrupole mass spectrometer, a dry diaphragm vacuum pump and HiPace turbopump. Unlike competing methods such as FTIR, OmniStar is suitable for qualitative and quantitative analysis of most gases.