2014 APEC Conference and Exhibition March 16-20 http://www.apec-conf.org/
NEWBURYPORT, MA, (March 6, 2014) – In conjunction with the 2014 APEC Conference and Exposition, Tom Giuliano, Solutions Engineer with Mersen will present Mersen's latest technology in flexible bus bar, Flex Technology, during the 2014 APEC Conference and Exhibition March 16-20 http://www.apec-conf.org/

The targeted markets today are ever evolving and Mersen's team of innovative engineers continue to meet the demands of these markets and the customers they serve. The technology was designed to provide solutions to challenges faced in emerging markets such as hybrid/electric vehicles, traction, and energy. In cases where wire or individual alloy pieces appear ideal for multiple interconnected terminals of varied heights to a plane, Mersen's Flex Technology can provide a single low maintenance handled unit with distinctive installation orientation. The flexible bus can also directly integrate smart systems for signal response on power and thermal sensing, engineered for a customer's specific system.
Visit Mersen at booth # 1113 to speak with a Mersen representative about Flex Technology and to learn more about Mersen's Power Electronics Solutions. Visitors to the booth can also explore Mersen's R-Tools thermal management and Select-A-Fuse tools, or test their knowledge of electrical protection with an interactive Protection Intelligent Quotient (PIQ) Quiz.
Mersen's power electronic bundling solution helps maximize system performance, lower total costs, and reduce time to market. Mersen's bundling solution comprises:
*Fast-acting fuses and other electrical protection devices (switches and fail-safe surge protection devices) protect against catastrophic failure
*Laminated bus bar plays a key role in power converters, and laminated and insulated bus bar provides connection between various components, limits parasitic inductance and eases assembly and integration, leading to an improvement of the overall power converter reliability, performance, and efficiency while minimizing assembly costs
*Cooling Systems provide thermal protection for semiconductor components while enabling heat to dissipate
Learn about all of Mersen's electrical power solutions at http://ep-us.mersen.com, email info@mersen.com, or call (978) 462-6662.
Featured Product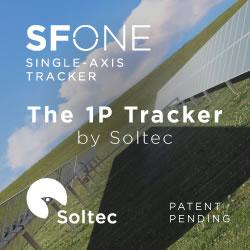 Soltec manufactures and supplies solar trackers designed and proven for extreme climate conditions, which is an ideal solution for any region's environment. Soltec's trackers are self-powered, requiring no additional PV module or grid-powered connection. Bifacial modules collect energy on both the front and rear sides, capturing reflected irradiance from the ground surface under and around the tracker and from other modules. Depending on site conditions, bifacial yield-gain can reach +30 percent.