Boosting Appeal Against Conventional Solutions
Munich, Germany (March 7, 2014)—Consistent improvements in technology and gradually lower costs will drive high-concentration photovoltaic (HCPV) systems to superior efficiencies, making HCPV an increasingly viable rival to conventional solar-generating solutions, according to the latest analysis from IHS Technology (NYSE: IHS).

The cell efficiency of HCPV systems, currently at 40 to 42 percent, will exceed 45 percent by 2017. Such cells, used with concentrating optics, will then lead to commercial-system efficiencies approaching 40 percent, compared to the less than 35 percent conversion rates typical at present, as shown in the attached figure.
"Efficiency is the most important requirement in CPV technology in order to generate competitive energy costs," said Karl Melkonyan, photovoltaic analyst at IHS. "And with the solar industry continuing to be firmly engaged in a quest for ongoing improvements through the development of new technologies, the efficiency of HCPV cells will advance over the years."
The anticipated improvements in HCPV systems are based on cell efficiencies having reached 44.7 percent in laboratory conditions, indicating that further advances are possible.
Even so, the gains in efficiency will have to be balanced against the additional manufacturing costs expected to be incurred when implementing the improvements, Melkonyan noted.
These findings can be found in the report, "CPV on the Edge of Breakthrough," from the solar research service at IHS.
Top HCPV regions in the world
Driven by falling system prices, HCPV is gradually becoming attractive in several regions of the world. IHS forecasts that the United States and Central America will install the largest number of HCPV systems between 2012 and 2017, serving as the world's biggest regional market. Installations for the region reached 54.1 megawatts in 2012.
Most HCPV suppliers are, in fact, based in the United States, and their forays into the domestic U.S. market will provide notice to rival conventional PV suppliers. Mexico is also forecast to become a large part of this regional market, with plans in place for a 450-megawatt installation.
Meanwhile, enormous growth will occur in South America, where the HCPV market is projected to surge by 560 percent from the time installations start in 2013 until the end of the forecast period in 2017. The primary driver of South American expansion is Chile, which has the world's highest solar irradiation levels important for solar-power generation.
But the greatest increase in the HPCV market will take place in the Middle East and Africa region. HCPV installations for the region—excluding South Africa, which is tracked separately because of its more advanced PV market—will grow to 155 megawatts in 2017, up from just 1.8 megawatts in 2012. Morocco and Saudi Arabia will be the main drivers.
China could also emerge as an important player soon as suppliers from the country grow in number, with parts of southwest China shaping up to become prime HCPV locations.
Competitive landscape changing turbulently
Unable to keep pace with the dramatic cost and price reductions that conventional PV saw, many CPV pioneers faced financial difficulties in the course of the PV price collapse that took place in 2011 and 2012. Numerous formerly leading companies—among them SolFocus and GreenVolts from California, as well as Opel Solar from Connecticut—ceased operations or became insolvent.
The industry has regained stability since 2013, however, and advances in new technologies continue to reduce costs. Just the same, only a few survivors are left from that tumultuous period, and those that remain are the ones with large cash balances and the most cost-efficient technologies. .
Among the major players, the two biggest CPV manufacturers—Suncore Photovoltaics from China and Soitec Solar from France—will each be expecting HCPV installations of about 50 megawatts by the end of the year.
Suncore and Soitec—along with top five suppliers Solaria and SunPower from California, and Magpower SA from Portugal—account for more than 80 percent of the CPV market at present. Two other manufacturers—Heliotrop from France and North Carolina-based Semprius—could also join the ranks of the top 10 this year.
The HCPV supplier base will continue to change in the next five years as the current market is still in its early phases of growth, with several newcomers and start-ups expected to liven up the competition, IHS believes.
Featured Product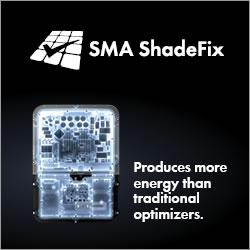 A recent university study showed SMA ShadeFix optimization produces more energy than traditional optimizers. It also utilizes far fewer components, reducing the need for costly service visits. Systems with ShadeFix optimization and SunSpec certified shutdown devices are the ideal solution for residential and commercial PV systems. Visit SMA's website to learn more and download the whitepaper.