Report Highlights How to Scale Residential Solar While Minimizing Potential Pitfalls and Rooftop Damage
SAN FRANCISCO, CA – March 11, 2014 – Today, Solar Marketing Group announces the release of a new white paper on improving quality control in residential rooftop solar installations. The white paper entitled: "The Importance of Reliable Solar Mounting Systems" was co-written by consortium of experts in the solar industry including Quick Mount PV, HatiCon Solar, Orion Solar Racking, Cinnamon Solar, and Solar Marketing Group. The report addresses the fundamental question of how the industry can double the number of solar homes without doubling the amount of damage from poor installation practices.

"There are over 400,000 solar homes across the US, and very few of them have roof leaks or others issues from their solar arrays. But if we don't keep our eye on improving racking and installation quality, these problems will grow exponentially as residential solar becomes mainstream," said Barry Cinnamon, CEO of Cinnamon Solar and primary white paper author.
The report provides a detailed look at residential solar mounting practices and components, areas where issues can occur, potential problems, costs for fixing them, and steps to prevent them. "The bad news is that, while rare, damages from poorly installed solar racking can cost homeowners and installers several thousands of dollars. The good news is that by using proper components and taking a few extra steps, installers can prevent pretty much all of these problems," said Cinnamon.
"Since racking and mounting reliability is already very high among quality-focused installers, it's very easy to get comfortable as an industry and let issues sneak up on us. We wanted to bring more attention to reliability in the racking space since problems there can give the industry a black eye and curb growth if ignored," said Liz Oh, President of Solar Marketing Group and white paper co-author.
The paper is a crash course for new installers, a refresher on best-practices for industry veterans, and a handy guide for what to expect from an installation for homeowners looking to go solar. The White Paper is free to download and can be found on Solar Marketing Group's website at www.solarmarketinggroup.com/whitepaper.
About Solar Marketing Group
Solar Marketing Group (SMG) is a niche marketing & communications agency based in San Francisco, CA, dedicated to serving the solar and clean tech industries. SMG creates powerful brands and generates quality leads through customized marketing solutions. Our partners range from Tier 1 module manufacturers to downstream project integrators, balance of system providers, technology leaders, trade associations, and nonprofits. SMG is online at www.solarmarketinggroup.com, www.facebook.com/SolarMarketing and www.twitter.com/solar_marketing.
About Cinnamon Solar
Cinnamon Solar is a residential solar installer serving the San Jose area. With a heritage of 10,000 happy customers since 2001, Cinnamon Solar brings experience and technical expertise to every one of its local rooftop projects. For more information, visit www.cinnamonsolar.com and www.facebook.com/cinnamon.solar.
About Quick Mount PV
Quick Mount PV manufactures innovative waterproof solar mounting systems designed to meet the needs and demands of rooftop solar systems – the need for fast installation of multiple mounts, and the demand that each and every roof attachment be strong and absolutely watertight. Quick Mount PV pioneered the use of roofing industry best practices in the solar industry and is the leading supplier of flashed mounting products for rooftop solar installations. All products are made in the USA. For more information, visit www.quickmountpv.com.
About HatiCon Solar
HatiCon Solar designs and produces high-quality environmentally responsible mounting systems for the North American photovoltaic solar energy market. They provide wind tunnel-tested, IBC compliant solar PV mounting solutions for pitched roof, flat/low-slope roof and ground mount installations by combining market proven technology with world class manufacturing and a strong dedicated organization. With more than 6GW installed worldwide and 150 MW in North America, HatiCon Solar's mounting systems have proven themselves under all conditions from high wind and snow loads to abrasive desert environments. HatiCon Solar PV mounting solutions are engineered from the ground up for fast and simple on-site installation. For more information, visit www.haticonsolar.com.
About Orion Solar Racking
Established in Commerce, CA, Orion Solar Racking is a solar mounting hardware manufacturer specialized in residential, commercial, industrial, government, agricultural and utility scale photovoltaic racking applications. Orion Racking provides a full line of roof and ground mounted structures with complete technical assistance to meet the needs for its customers. Orion's expert technical support includes design assistance, rapid on-line cost estimating, complete code compliance documentation, and custom tailored solutions for the most challenging installations. For more information, visit www.orionsolarracking.com.
Featured Product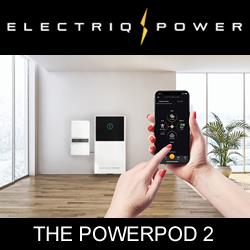 The Electriq PowerPod 2 is a fully-integrated home energy storage, management, and monitoring system powered by LFP batteries. The high-performance, cobalt-free product includes a hybrid solar/battery inverter controlled by intelligent software. The PowerPod 2 provides backup power and can self-consume or export excess power back to the grid.