Contract with Fonroche Energie includes engineering support services to ensure optimal tracker performance
Martillac, France, March 12 2014. Exosun, a leading provider of solar tracking technologies for utility-scale ground-mounted photovoltaic (PV) plants, has signed an agreement with Fonroche Energie, a major player in the renewable energy field, to supply 12 MW of trackers and product-associated services for the 'Le Betout' PV plant located in South West France.

The 12 MW plant, financed by Capenergie 2, a fund dedicated to renewable energy and managed by capital investment firm Omnes Capital, will be installed over 79 acres in Saint-Hélène, near Bordeaux, and is expected to produce 16,900 MWh annually—enough electricity to power 4,828 homes.
In its role as construction contractor, Fonroche Energie has selected Exosun to supply and commission 81 Exotrack® HZ horizontal single-axis solar trackers. They will support 40,640 panels and approximately 850,000 ft² of PV modules, orienting them toward the sun to significantly increase output throughout the year in comparison to fixed-tilt structures. At the heart of Exotrack® HZ is the Exobox, which enables on-site or remote (via the customer's SCADA) centralized tracker control, as well as providing tracking data for monitoring.
Moreover, Exosun will support Fonroche throughout the construction, commissioning and operation phases of the plant in order to ensure the optimal performance of the Exotrack® HZ. To do so, Exosun will provide Fonroche with tracker installation training, delivered with specific tools, and tracker O&M training.
"We are very pleased with this first partnership with Fonroche. The confidence granted to us by both our client and the project's funder, Omnes Capital, reflects the quality of our technology and support service capabilities. We aim to optimize the plant's profitability and obtain a rapid return on investment." comments Frédéric Conchy, President and Founder of Exosun.
Tracker installation begins this month with commissioning scheduled for the third quarter of 2014.
About Exosun
Founded in June 2007, Exosun is an expert in solar tracking and concentrated solar systems. Exosun designs, develops and supplies innovative solar tracking technologies for utility-scale solar plants. Exosun also provides a full range of product associated engineering services. Designed to meet the highest quality standards, Exosun's solar solutions provide predictable, reliable performances with state-of-the-art technology. Highly competitive on price, quality, and yield, Exosun offers all the technical and environmental qualities necessary to create the best solutions for large scale ground-mounted solar projects.
Featured Product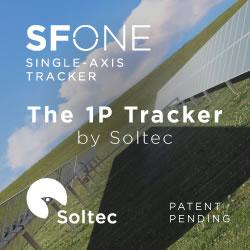 Under the slogan "engineered for greatness", the SF8 tracker aims to revolutionize the photovoltaic market with its new minimum 2x60 configuration and 4 to 6-strings. This tracker is elegantly designed while it reinforces its structure to perform in any terrain. In addition, the SF8 tracker increases the rigidity of its structure by 22% more than the previous generation of Soltec trackers, the SF7. The SF8 is specially designed for larger 72 and 78 cell modules, an increasing market trend.