"The fund's objective is to support development of new renewable energy technologies and renewable energy projects"
MINNEAPOLIS--Minnesota regulators today approved 29 renewable energy projects, predominately featuring solar technologies, to receive $42 million in grants from Xcel Energy's Renewable Development Fund.

"The fund's objective is to support development of new renewable energy technologies and renewable energy projects," said Dave Sparby, president and CEO of Northern States Power Co.-Minnesota, an Xcel Energy company. "With the new state solar statute, this round of grants appropriately focuses on the goal of making more cost-effective solar resources available for Xcel Energy customers."
Nearly 70 renewable energy proposals were considered for funding. The Minnesota Public Utilities Commission approved Renewable Development Fund grants, which support a portion of project costs, for energy production, research and development, and for block grant distribution to Minnesota colleges and universities. (The list of selections is below.)
The Renewable Development Fund money comes from Xcel Energy customers. Each year the company transfers $24.5 million to the fund in accordance with state law. An advisory board with representation from Xcel Energy, environmental groups, Xcel Energy customers and the Prairie Island Indian Community makes recommendations to the commission. All selected projects are subject to final approval by the commission.
Including the grants announced today, nearly $95 million has been awarded through the Renewable Development Fund. Owners of energy production projects sell the energy generated to Xcel Energy or use the energy themselves. Currently more than 27 megawatts of renewable energy is under development from three previous funding cycles.
Xcel Energy (NYSE: XEL) is a major U.S. electricity and natural gas company that provides a comprehensive portfolio of energy-related products and services to 3.4 million electricity customers and 1.9 million natural gas customers through its regulated operating companies in eight Western and Midwestern states. Company headquarters are located in Minneapolis.
Xcel Energy 2014 Renewable Development Fund Project Selections
Energy Production Projects (Locations denote project site. All are in Minnesota unless otherwise indicated):
*Anoka Ramsey Community College, Coon Rapids: Install 458 kilowatts of solar capacity on campus and demonstrate three types of solar energy deployment that will be a hands-on laboratory for research and skills development, $828,900.
*Aurora St. Anthony Limited LLC, St. Paul: Install 252 kilowatts of solar capacity at the Old Home Milk Dairy facility and demonstrate the contribution that on-site solar energy generation can make for permanent affordable housing, $398,000.
*Bergey Windpower Co., central Minnesota: Install 500 kilowatts of wind capacity to increase the market penetration of small wind turbines within Minnesota and promote American-built small wind turbines, $1,106,600.
*Best Power, Int'l LLC, Mankato: Install 907 kilowatts of solar capacity at the School Sisters of Notre Dame campus and provide a process for local electrical inspectors to understand the new technology of a 1,000 Vdc (Volts direct current) system, $900,000.
*Best Power, Int'l LLC, Collegeville: Install 198 kilowatts of solar capacity at St. John's University and provide an on-site, side-by-side comparison of competing solar technologies. Linear axis tracker technology is currently in place. The new array will incorporate fixed-tilt technology, $172,213.
*City of Hutchinson: Install 402 kilowatts of solar capacity which can be a model in Minnesota for how to cost effectively develop a significant solar energy resource on a landfill that would otherwise have little or no economic value, $958,369.
*City of St. Paul: Install 105 kilowatts of solar capacity at the new Saints Stadium and promote the benefits of solar through direct engagement with ballpark spectators and to reduce the park's greenhouse gas and pollution footprint, $555,750.
*Cornerstone Group, Richfield: Install 152 kilowatts of solar capacity at the former Lyndale Garden Center and showcase holistic sustainable development with a solar installation, $310,310.
*Dragonfly Solar LLC, Dodge Center: Install 998 kilowatts of solar capacity at a wind farm and take advantage of existing interconnection and construction costs, $1,650,000.
*Farmamerica, Waseca: Install 120 kilowatts of solar and wind capacity on campus and achieve a net zero non-combustion based energy production system at the Farmamerica interpretive center, significantly reducing the facilities carbon footprint, $600,000.
*Goodwill Solar LLC, St. Paul: Install 700 kilowatts of solar capacity at the Goodwill Easter Seals headquarters and provide data that will aid in the research and development of accurate energy and capacity pricing for solar technologies, $1,075,250.
*Innovative Power Systems Inc., St. Paul: Install 967 kilowatts of solar capacity on business rooftops within the Central Corridor and demonstrate a development process for solar energy through a public-private tax equity investment structure, $1,850,000.
*Metropolitan Airports Commission, Bloomington: Install 1,180 kilowatts of solar capacity at the Minneapolis-St. Paul International Airport and serve as a prototype for future solar projects at the airport which showcases energy innovations and focus public awareness, $2,022,507.
*Minneapolis Park and Recreation Board, Minneapolis: Install 200 kilowatts of solar capacity that will utilize Minnesota Made solar panels and demonstrate the effectiveness of alternative solar designs, $969,741.
*Minneapolis Public Schools, Minneapolis: Install 485 kilowatts of solar capacity at Edison High School and develop a green campus demonstration model by serving as a hands-on "classroom" that will be integrated with the school's science, math and technology curricula, $917,250.
*Minnesota Renewable Energy Society, statewide: Install 1,000 kilowatts of solar capacity using solar gardens. Provides the opportunity for homeowners or business owners who cannot have solar on their roofs to participate in solar power generation and to research best practices for community solar in Minnesota through a demonstrable, replicable and scalable pilot project, $2,661,320.
*Mondovi Energy Systems, Mondovi, Wis. - Install 2,000 kilowatts of biomass capacity and divert various community organic wastes from landfills to be converted to usable products that can offset waste management costs, $2 million.
*Oak Leaf Energy Partners Ohio LLC, Shakopee: Install 1,000 kilowatts of solar capacity at the Blue Lake Wastewater Treatment Plant, $2 million.
*SGE Partners LLC, South St. Paul: Install 1,100 kilowatts of biomass capacity at the Sanimax Industries facility by designing and constructing a commercial anaerobic digester and generator to convert biogas to electricity which will demonstrate the viability of an urban biodigester utilizing nonagricultural residue, $5 million.
*Target Corp., St. Paul: Install 350 kilowatts of solar capacity at Target's Midway St. Paul retail location to maximize on-site renewable energy production during peak hours and reduce Target Midway's greenhouse gas footprint, $583,513.
Research and development projects (Locations denote research site. All are in Minnesota.):
*Barr Engineering, Minneapolis: Reduce the cost of wind energy by giving wind farm owners and operators a cost-effective means of assessing the health and life expectancy of towers and foundations, $161,081.
*University of Minnesota, Minneapolis: Develop a solid biofuel that has potential for direct, stand-in use at power generation facilities and develop distributed generation in rural environments using rural biomass as fuel, $1,899,499.
*University of Minnesota, Morris: Increase renewable electric energy generation on Minnesota dairy farms by establishing a model "net-zero" energy dairy parlor, $982,408.
*University of Minnesota, Minneapolis: Quantify infrasound annoyance and better understand noise emissions from wind turbines to provide a basis for regulatory and permitting requirements, $625,102.
*University of Minnesota, Minneapolis: Develop, demonstrate and transfer into practice a wind simulation model for optimization of performance, financial decision making and operational planning, $1,391,684.
*Xcel Energy, Minneapolis: Develop information technology that will allow customers to receive on their billing statement the energy produced from their share of a solar garden and automatically verify subscriber eligibility, $390,000.
Institutes of higher education (block grant awards to be used for renewable electric energy research initiatives).
*Minnesota State Colleges and Universities, $5.5 million.
*University of Minnesota, $3 million.
*University of St. Thomas, $1.5 million. (grant amount may be amended)
Detailed information on the projects selected will be available on the Xcel Energy website at www.xcelenergy.com/rdf
Featured Product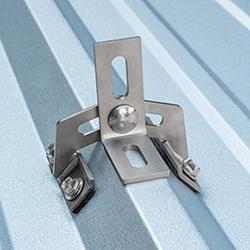 Error-Proof Compression: The QB2 doesn't leave any room for user error when it comes to Microflashing® compression. Once the Dual Drive Shoulder Screw is secured, the Microflashing® is compressed. Only 3 Components: The QB2 is comprised of Microflashing®, an L-foot and a Dual Drive Shoulder Screw. No more Nuts needed to tighten and secure the L-foot! Not only does this simplify the installation process, it also cuts down the installation time.