Performing renewable integration for the site
WESTBOROUGH, Mass.--A123 Energy Solutions announced the commissioning of a 500-kilowatt Grid Storage Solution (GSS™) for Dongfang Electric Machinery Co., Ltd, one of the largest manufacturers of power generating equipment in China. The 500kW, 125kWh GSS is connected to the microgrid at Dongfang Electric Machinery Co's Hangzhou facility and will be performing renewable integration for the site, where it is co-located with wind, PV, and conventional generation resources. This energy storage installation, A123 Energy's second deployment in China, is a High Rate (HR) GSS and is not containerized, but instead is housed in one of the site's existing buildings.

"For this project, we needed to install energy storage in an existing building. The flexibility of our GSS allowed us to accomplish just that, with no major modifications or special considerations around the building," said Bud Collins, President of A123 Energy Solutions. "In addition, our AEROS™ control software, developed solely by A123 Energy, allows our customer to use the storage system to manage its renewable and conventional generation, optimizing energy usage for the site."
The HR GSS is well suited for accommodating fluctuations in variable energy resources like wind or solar, and can be used to improve the efficiency of traditional thermal generators as well. Operating worldwide in revenue service since 2009, the HR GSS forms the bulk of the grid energy storage that A123 Energy Solutions has deployed to date, and performs in a variety of applications including frequency regulation, reserve, ramp management, and T&D support.
About A123 Energy Solutions
A123 Energy Solutions, a division of A123 Systems LLC and a part of Wanxiang Group, develops and manufactures advanced batteries for electric grid, backup power and lead-acid replacement applications based on A123 Systems Nanophosphate® technology. As an industry leader in energy storage system integration focusing on high performance, efficient, safe and reliable battery systems, A123 Energy Solutions designs and manufactures advanced battery systems ranging from small industrial batteries to massive grid-scale energy storage systems. Its megawatt-scale Grid Storage Solutions have been successfully operated in commercial revenue service since 2009 around the world, and have to date reached over 100MW delivered. In commercial and specialty batteries, it provides energy storage solutions to fit the needs for telecom, IT backup, datacenter, medical, lead-acid replacement and other industrial applications. For more information, please visit www.a123energy.com.
Featured Product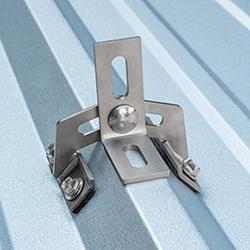 They have been changing the game for 10 years with their original Top Mount line for Asphalt Shingle roofs, and by now supplying one of the widest ranges of solar mounts in North America. From their patented products, to the custom production services they offer, QuickBOLT has been working with solar installers for nearly a decade to make solar installations easier than ever before.