Honor recognizes firm's commitment to sustainability and reducing its carbon footprint
CARACAS, VENEZUELA – February 18, 2014 – Vepica, a leading global energy-industry engineering company and ENR Top 225 International Design Firm, announced today that its state-of-the-art, 82,000-square-foot, five-story new headquarters was recently awarded LEED® Silver Certification by the U.S. Green Building Council (USGBC). LEED (Leadership in Energy and Environmental Design) is the premier green-building accreditation system, and of particular note was Vepica's robust solar-panel installation – the largest in Venezuela.

"As a corporation we're committed to sustainability and a cleaner world, and we're constantly looking for ways to reduce our carbon footprint," said Miguel Bocco, Jr., Vepica's Chairman of the Board. "In addition to constructing a highly energy-efficient headquarters to house more than 600 employees, we're establishing an alternative energy practice to generate energy in an environmentally responsible manner."
Vepica's green headquarters was recently spotlighted in Office Snapshots, and key features of the LEED certification include: 195 solar panels totaling 50 kWh of installed capacity; enhanced energy performance; public-transportation access; 80% water-use reduction; innovative wastewater technologies, such as a rainwater collection tank; building and material reuse; and advanced construction waste management.
"Vepica's LEED certification demonstrates tremendous green building leadership," said Rick Fedrizzi, President, CEO & Founding Chair, U.S. Green Building Council, which established the LEED program and has worked on over 100,000 projects. "The urgency of USGBC's mission has challenged the industry to move faster and reach further than ever before, and Vepica serves as a prime example of just how much we can accomplish."
About Vepica
Incorporated in Spain, and with operations in Canada, China, Colombia, the U.S. and Venezuela, privately held Vepica is a leading global energy-industry engineering company and ENR Top 225 International Design Firm. Vepica provides EPC, engineering, inspection/O&M and environmental services to the oil and gas, alternative energy, chemical, power generation, infrastructure, transportation, mining and telecommunications industries. Founded in 1972, Vepica today has over 2,000 employees and counts more than 37 million man-hours and 3,500 engineering projects on four continents to its credit. For more information, visit: www.vepica.com.
Featured Product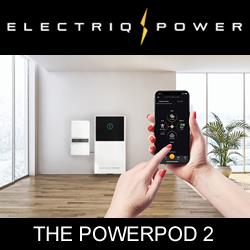 The Electriq PowerPod 2 is a fully-integrated home energy storage, management, and monitoring system powered by LFP batteries. The high-performance, cobalt-free product includes a hybrid solar/battery inverter controlled by intelligent software. The PowerPod 2 provides backup power and can self-consume or export excess power back to the grid.