Capeable of meeting the equivalent electricity needs of around 700.000 UK households
Edinburgh 19 March 2014 Moray Offshore Renewables Ltd today welcomed news that the Scottish Government has awarded it consent for the construction and operation of 1.116MW of offshore wind generation in the Outer Moray Firth.

The project, which, on conservative estimates of the wind resource available, will be capeable of meeting the equivalent electricity needs of around 700.000 UK households, consists of the Telford, Stevenson and MacColl offshore windfarms, which are planned for construction 14 miles (22km) from the Caithness coastline.
João Manso Neto, CEO of EDP Renováveis said:
"This is a critical step not only in the delivery of this project, but in the development of offshore wind in deeper water, further from shore.
"This project will provide the UK with a significant new generation resource at a time when many ageing thermal powerstations are coming off-line, generation capacity is shrinking, and gas prices are rising. It will deliver improved security of supply, and greater insulation for consumers from volatile fossil fuel prices.
Benjamín Palomo, Executive Director of Repsol Gas & Power said:
"We are delighted that the Moray Firth offshore wind farm has been granted consent by Marine Scotland. The project represents a substantial investment and will bring significant benefits not only to the United Kingdom as a country, but also to the local economy through construction and operation. We will continue ensuring that we power our economies with clean, secure energy for many years to come."
Dan Finch, Project Director for Moray Offshore Renewables and EDPR UK Country Manager, said:
"I would like to thank all of the people who have worked with us and engaged with the project to develop sustainable proposals which can be delivered without adversely affecting the environment, and which will allow offshore wind to develop alongside the long-established industries of the Moray Firth.
"We look forward to engaging with businesses who will be able to take advantage of the new market which offshore wind development will bring, and will be announcing a series of industry engagement events in the Moray Firth area to encourage the development of a competitive, innovative supply chain.
Ronnie Quinn, The Crown Estate's lead on Energy & Infrastructure in Scotland, said:
"This is the second largest offshore wind project to be consented in the UK, reflecting the drive and expertise of the Scottish renewables industry. This development should help the UK retain a global lead in offshore wind and create plenty opportunities for Scottish businesses to benefit from the growth in low carbon energy. Our team stands ready to support this project as it progresses."
Featured Product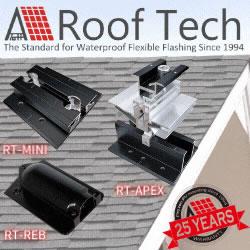 Now Roof Tech brings you the most innovative, watertight mounting systems ever developed for solar photovoltaic systems. Designed and manufactured exclusively for us by Japan's longtime leader in roofing technologies, Roof Tech products are 100% code-compliant and offer fast, simple installation and huge savings on shipping costs due to their compact, rail-less design. Learn more about our full line of versatile PV mounting solutions now available for residential installations. The next generation in rooftop solar mounting solutions."