Project demonstrates Panasonic and Coronal's continued alliance in eco construction market
NEWARK, N.J., March 20, 2014 -- Panasonic Eco Solutions North America (Panasonic) and Coronal Management, LLC (Coronal) announced that they have completed a 290.44 kilowatt solar photovoltaic (PV) power generation installation at the University of Colorado Boulder (CU-Boulder). This installation is the second of its kind at the university; the first installation was completed in late 2012.

The new solar system provides clean energy power to the 11,064-seat multi-purpose arena located on the main campus and is home to the Colorado Buffaloes basketball teams as well as the volleyball team. It is aimed at helping the university meet its short-term goal of powering the campus with green energy by reducing demand for grid electricity and cost while also fulfilling part of its long-term goal for a carbon-neutral campus, outlined in the pledge made by CU-Boulder to the American College and University President Climate Commitment.
"Given the positive outcome of our earlier, smaller scale renewable energy project with Panasonic, we decided to move forward with Panasonic on this larger installation," said Moe Tabrizi, Director of Engineering and Sustainability at CU-Boulder. "Again, it was a well-organized implementation with progressive results."
By working together, Panasonic and Coronal are able to deliver a truly comprehensive end-to-end solution aimed at facilitating the development and commercialization of solar PV projects in the commercial, industrial, municipal and small utility markets. From inception to commercial operation and beyond, the companies' combined capabilities include construction and permanent financing, project implementation and long-term service and maintenance that ensures attractive and reliable benefits for many years.
"The fact that CU-Boulder looked to Panasonic and Coronal again after we completed a first project over a year ago demonstrates their strong confidence in our capabilities and the unique value offering we bring to the table," said Jamie Evans, Head of U.S. Eco Solutions at Panasonic. "While the performance of the solar installation is critical, finding a partner that is cost effective, easy to work with and that makes the process as simple as possible is equally important. I am confident this partnership mentality is the reason CU-Boulder looked to Panasonic and Coronal to implement a second solar installation."
About Panasonic Eco Solutions North America
Panasonic Eco Solutions North America is a division of Panasonic Corporation of North America, the principal North American subsidiary of Panasonic Corporation. In Interbrand's 2013 Annual "Best Global Green Brands" report, the Panasonic brand rose to number four, the highest ranked electronics brand in the report (http://bit.ly/19WFSpu). Panasonic Eco Solutions develops and provides customized and integrated technology-based system solutions for enterprise customers in a variety of industries such as sports, entertainment and digital outdoor. Additionally, the company supplies renewable energy and energy-efficiency solutions to corporate and public sector organizations. For more information visit: http://www.panasonic.com and http://us.panasonic.com/business/pesna/.
About Coronal Management, LLC
Coronal Management is an alternative energy firm that develops, finances, builds, operates and maintains solar PV projects for institutions, corporations and non-profit organizations throughout the US, Canada and Puerto Rico. The Coronal team, which brings more than 80 collective years of successful asset and investment management experience and a strong record of solar project development, has been recognized by the White House Office of Innovation and Civic Participation as thought leaders in the solar industry.
Coronal Management and Panasonic Eco Solutions North America have established an exclusive strategic relationship to bring a new financial and asset management model to the renewable energy market. As a strategic partner for developers, engineering, procurement and construction firms (EPC), power purchasers and investors, the Coronal-Panasonic team has created a truly comprehensive end-to-end solution that takes a project from greenfield development through maintenance operation under one roof – for solar PV projects between 250 kW and 20 MW in the commercial, industrial, municipal and small utilities (CIMSU) markets. The Coronal model is enhanced by Panasonic's long-term maintenance agreement, 100% construction financing and a 90% production output guarantee. For additional information, please visit www.Coronalmanagement.com.
About the Universityof Colorado Boulder
As the flagship University of the State of Colorado, CU-Boulder is a dynamic community of scholars and learners situated on one of the most spectacular college campuses in the country. As one of 34 U.S. public institutions belonging to the prestigious Association of American Universities (AAU) – and the only member in the Rocky Mountain region – CU-Boulder has a proud tradition of academic excellence, with four Nobel laureates and more than 50 members of prestigious academic academies. Today, with its sights set on becoming the standard for the great comprehensive public research universities of the new century, CU-Boulder strives to serve the people of Colorado and to engage with the world through excellence in teaching, research, creative work, and service. For information visit http://www.colorado.edu/cusustainability
Featured Product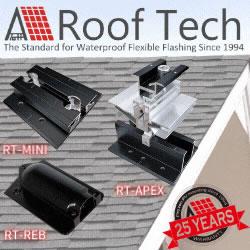 Now Roof Tech brings you the most innovative, watertight mounting systems ever developed for solar photovoltaic systems. Designed and manufactured exclusively for us by Japan's longtime leader in roofing technologies, Roof Tech products are 100% code-compliant and offer fast, simple installation and huge savings on shipping costs due to their compact, rail-less design. Learn more about our full line of versatile PV mounting solutions now available for residential installations. The next generation in rooftop solar mounting solutions."