SOL will become a wholly-owned subsidiary of Carmanah.
VICTORIA, British Columbia--Carmanah Technologies Corporation (TSX: CMH) and SOL, Inc., a privately-owned Florida-based company, today jointly announced that Carmanah has entered into a binding Letter of Intent with SOL, Inc. and Michael Sonnenfeldt. Mr. Sonnenfeldt is a director of Carmanah and the controlling shareholder of SOL. Under the terms of the Letter of Intent, Carmanah has agreed to buy all outstanding shares of SOL owned by Mr. Sonnenfeldt and the parties intend to take the necessary steps to ensure that all other owners of SOL shares prior to closing enter into a definitive agreement to sell their shares to Carmanah. As a result, upon completion of the transaction, SOL will become a wholly-owned subsidiary of Carmanah.

"As solar efficiency improves and LED lighting technology advances, we believe an increasing share of the outdoor lighting market will turn to solar," said John Simmons, CEO of Carmanah. "Our acquisition of SOL, which has a long history and broad capability in solar lighting, turns our belief into commitment.
The total consideration payable by Carmanah to acquire all of the shares of SOL consists of:
(a) 38,163,176 common shares of Carmanah, which would be issued from treasury; and
(b) a royalty pursuant to which Carmanah will agree to pay to the former shareholders of SOL an amount equal to 3% of total revenues received by Carmanah in respect of certain specified prospective sales by SOL, provided each identified project must result in US$5.0 million in revenue to Carmanah before any amounts are payable to the former SOL shareholders and subject to a number of other conditions.
Based on Carmanah's current trading price, the total value of the transaction is approximately CAD$7.5 million. Carmanah will acquire SOL on the basis that it has no debt and no excess cash above a specified level of required working capital. The definitive agreement for the transaction will contain customary representations, warranties, covenants and indemnities.
"For more than 20-years SOL has provided best-in-class solar lighting solutions to customers in more than 60 countries around the world," said Dibs Tailor, CEO of SOL. "Our acquisition by Carmanah begins an exciting new chapter for us. Our combined product portfolio, technical resources and sales reach will enable us to better serve customers and make us a very formidable competitor in this high growth market."
Completion of the transaction is subject to a number of conditions including: (a) satisfactory completion of due diligence by both parties; (b) absence of any change in the affairs of SOL or Carmanah that would have a material adverse effect on the relevant entity or its business; (c) approval of the transaction by the board of directors of Carmanah; (d) execution of a definitive agreement pursuant to which Carmanah will be entitled to acquire 100% of the outstanding shares of SOL; and (e) receipt of all necessary approvals, including the approval of the Toronto Stock Exchange and the approval of shareholders of Carmanah at the annual general meeting currently scheduled to be held on or about May 8, 2014. There can be no assurance at this point that all such conditions will be satisfied and, in the event any conditions are not satisfied or waived, the transaction would not be completed. If all conditions are satisfied or waived, the transaction is currently expected to close in May, 2014.
As Mr. Sonnenfeldt is a majority owner of SOL, and a significant shareholder of Carmanah, this transaction is considered a "related party transaction" for purposes of applicable Canadian securities laws and accordingly Carmanah appointed an independent committee of its directors to oversee the negotiation and review of the proposed transaction. The details of that review, a description of the results of an independent valuation commissioned as part of their review and other details on the reasons for the independent committee's recommendations with respect to the transaction will be contained in the information circular for the shareholders' meeting at which shareholders of Carmanah will be asked to approve the transaction. Mr. Sonnenfeldt will not be entitled to vote any shares of Carmanah which he owns in respect of the resolution to approve the transaction.
About SOL Inc.
SOL Inc. is a global leader in commercial outdoor LED lighting solutions powered by solar energy and the market leader in North America. Over the past two decades, the company has installed more than 60,000 systems in more than 60 countries on six continents. SOL Inc. has provided reliable, cost-effective, customized and esthetically pleasing solar lighting solutions for a wide range of lighting applications including roadways, parking lots, paths and trails, perimeter security, campuses, military bases, storage areas and for ad lights or monument signs. SOL's lighting solutions are less expensive than grid-tied lighting for many applications because they eliminate the cost of wiring, trenching and other electrical and utility costs. For more information, please visit www.solarlighting.com.
About Carmanah Technologies Corporation
As one of the most trusted names in solar technology, Carmanah has earned a reputation for delivering strong and effective solar products for roadway, marine, airfield, traffic and obstruction applications worldwide. With products proven to perform reliably in some of the world's harshest environments, Carmanah solar LED lights, signaling and solar power systems provide durable, dependable and cost effective alternatives. Carmanah is a publicly traded company, with common shares listed on the Toronto Stock Exchange under the symbol "CMH". For more information, visit www.carmanah.com.
Featured Product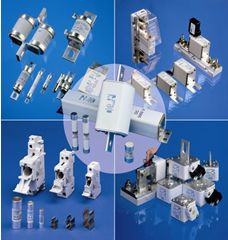 SIBA Fuses: your trusted source for all your circuit protection applications, from solar power to wind power. We are the world leaders in these applications and the most trusted name for your circuit protection needs. We have been working for over 70 years in semiconductor fuses, including ULTRA RAPID®, medium, and high voltage, standard European, miniatures, electronic fuses, and a wide range of DC rated fuses (24 VDC - 5000 VDC) for all types applications. We work with medium and high voltage fuses for protection of transformers, including submersibles, motors, medium and high voltage switchgear, compact substations, cable feeders, and high voltage capacitor circuits. New: Full line of PV UL Listed fuses and fuse holders. Contact us today for more information on our products and services.