Partners establish Coronal Municipal Energy Services joint venture with Global Investment Renewable to focus on public power projects
NEWARK, N.J., March 25, 2014 -- Panasonic Eco Solutions North America (Panasonic) and its strategic partner Coronal Group (Coronal) have teamed up with Global Investment Renewable (GIR) to create Coronal Municipal Energy Services (CMES). GIR brings a proven track record of success in developing more than 600 Megawatts (MW) of solar projects and has developed a 2 Gigawatt (GW) pipeline of U.S. public power projects that are poised to transform the power market. Its innovative model allows public power authorities to procure solar electricity and its associated renewable attributes at prices that are competitive with brown power alternatives. Together with the engineering and operations expertise of Panasonic and the financial acumen of Coronal, CMES expects to bring the portfolio to fruition over the next 24 months.

The Panasonic-Coronal team established a renewable energy platform that provides best-in-breed engineering, efficient financing and long-term stable operations and management. "This joint venture with GIR continues to reinforce Panasonic's goal to be the leading green innovation company in the electronics industry," said Jamie Evans, head of U.S. Eco Solutions at Panasonic. "We will continue to expand our capabilities in solar with a focus on bringing innovative technological and financial solutions to the energy market."
GIR's innovative approach to delivering renewable energy to public entities will provide long-term stable renewable energy at competitive prices to traditional alternatives "For the first time, we have a model where projects are not limited by geography," said Ed Feo, COO of Coronal. "We are excited about this joint venture and believe it has enormous potential to change the way public entities think about renewable energy. This year alone, nearly 8 GW of distributed solar power generation capacity is expected to be added, bringing the current total capacity to more than 26 GW."
"We have worked tirelessly to fine-tune our model to the point where we can provide renewable energy at competitive prices to traditional energy," said GIR's Executive Director Vaughn Millette. "The municipal electricity market will reach approximately $100 billion in sales this year. We're confident that our proprietary financial model, in combination with the backing of Panasonic, a respected global titan, and Coronal's financial and asset management expertise, will now allow us to bring our efforts to reality and transform the way public entities view renewable energy projects."
Marathon Capital was the exclusive financial advisor to GIR in this transaction.
About Panasonic Eco Solutions North America
Panasonic Eco Solutions North America is a division of Panasonic Corporation of North America, the principal North American subsidiary of Panasonic Corporation. Panasonic Corporation rose to number four in Interbrand's "Best Global Green Brands 2013", becoming the highest ranked electronics brand in the report. Panasonic Eco Solutions develops and provides customized and integrated technology-based system solutions for enterprise customers in a variety of industries such as sports, entertainment and digital outdoor. Additionally, the company supplies renewable energy and energy-efficiency solutions to corporate and public sector organizations. For more information visit: http://www.panasonic.com and http://us.panasonic.com/business/pesna/.
About Coronal Group, LLC
Coronal Group is an alternative energy firm that develops, finances, builds and operates solar PV projects for institutions, municipalities, corporations and non-profit organizations throughout the US, Canada and Puerto Rico. The Coronal team, which brings more than 80 collective years of successful asset and investment management experience, and a strong record of solar project development, has been recognized by the White House Office of Innovation and Civic Participation as thought leaders in the solar industry. For additional information, please visit www.CoronalGroup.com.
About Global Investment Renewable
Global Investment Renewable (GIR) is an international solar developer with a proven track record of developing large utility-scale solar projects in the United States and Europe. In the United States, GIR acts as a development and finance firm which facilitates the development, financing, construction, and operation of solar PV facilities. Global Investment Renewable successfully exited the European market in 2012 after selling its Italian solar energy platform to international solar and wind developer Relight Group. For more information about GIR, visit www.girenewable.com.
About Marathon Capital
Marathon Capital is a leading financial advisory and investment banking firm focused on providing financial advice in the areas of M&A, capital raising of debt and equity, project finance, tax equity, financial restructuring, recapitalization, bankruptcy and workout situations in the energy sector. Marathon Capital was recently awarded "Best Renewable Asset M&A Advisor" in Power Finance & Risk's 10th Annual Power Finance Deals and Firms Awards in 2013. For more information, visit http://www.marathon-cap.com
Featured Product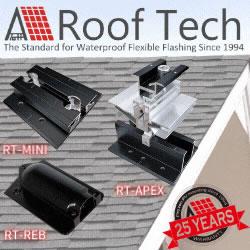 Now Roof Tech brings you the most innovative, watertight mounting systems ever developed for solar photovoltaic systems. Designed and manufactured exclusively for us by Japan's longtime leader in roofing technologies, Roof Tech products are 100% code-compliant and offer fast, simple installation and huge savings on shipping costs due to their compact, rail-less design. Learn more about our full line of versatile PV mounting solutions now available for residential installations. The next generation in rooftop solar mounting solutions."