The company is planning to open new facilities in Texas; North Carolina; Georgia; Colorado and Washington.
FREMONT, Calif.--As PetersenDean, a full service, privately-held roofing and solar company, celebrates its 30-year anniversary, they are announcing the expansion of their ever-growing roofing and solar business to five new states.

With the steady growth of its roofing and solar business and the strong demand from home builders and consumers alike, the company is planning to open new facilities in Texas; North Carolina; Georgia; Colorado and Washington. PetersenDean is expecting to add to its workforce approximately 4,000 new (American) workers once the plan is fully executed.
"This is a substantial number of jobs for each area. We're talking office workers, installers, and supervisors, to name a few. These are promising, well paying jobs for everyone from the PhD in our research department to our journeymen in the field," said Jim Petersen, Founder of PetersenDean.
With PetersenDean's commitment to American made products, the expansion is expected to have a strong impact to the economies in these regions and nationwide. An estimated 900 additional periphery jobs will be added to American-based solar manufacturers that PetersenDean partners with including SolarWorld, Suniva and KACO, said Petersen.
"We made a decision at PetersenDean to only source our products from America. It's costing us a little more money to buy these panels and roofing products, but we are supporting the American economy and we are supporting American workers and we're reinvesting those dollars back where they should be," explained Petersen. "Efforts like this are putting Americans to work by putting American products to work."
The plan is scheduled to roll into effect in May 2014. While PetersenDean currently builds over 100,000 new roof and solar power systems today, when the expansions are fully implemented, the company will grow to more than 200,000 installations annually. The new plan will also include installing 12,000 additional Power Saver Solar Systems in year one. With Texas and North Carolina first on the list, the remaining territories will follow in a three-year rollout plan.
The steady rise of solar as a renewable energy source is the driving force of the company's expansion. "As the economy continues to recover and solar becomes more affordable, we have seen huge increases in demand across the board with both residential and commercial installations. We estimate that roofing and solar manufacturing has grown about 400 percent from last year and is only going to grow more from here, especially as the costs come down further and more and more municipalities change their energy policies to require solar," said Petersen.
Petersen added, "As prices continue to drop, more builders and developers are offering solar as standard in their new communities and we expect the trend to continue. Around the country, many solar rebate programs administered by states and utilities have begun to expire or at least are being overhauled. This does not mean that solar is going to die. It's actually stronger than ever. Even without rebates, solar has now reached a point of price competitiveness with the electric utilities in many areas and with grid prices typically rising about 5 percent each year, solar makes a lot of financial sense."
About PetersenDean Roofing & Solar: Founded in 1984 by Jim Petersen, PetersenDean is the largest, full-service, privately-held roofing and solar company in the United States. Specializing in new residential and commercial construction, PetersenDean works with some of the nation's largest builders and developers. With more than a million roofs under its belt, the Fremont, CA-based company employs 3,000 and operates in five states: Arizona, California, Florida, Nevada, and Texas. Please visit http://www.petersendean.com/ for more details.
Featured Product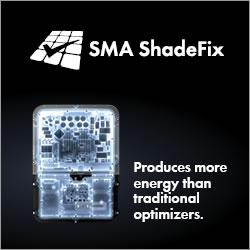 A recent university study showed SMA ShadeFix optimization produces more energy than traditional optimizers. It also utilizes far fewer components, reducing the need for costly service visits. Systems with ShadeFix optimization and SunSpec certified shutdown devices are the ideal solution for residential and commercial PV systems. Visit SMA's website to learn more and download the whitepaper.