The solar data provider will be exhibiting its services at the 2nd Chilean Solar Conference & Exhibition in Santiago this May.
On the 27th and 28th May Santiago will host the CHILESOL 2014 conference, which covers both utility scale solar technologies: concentrated solar power and photovoltaic. It will also feature a solar focused exhibition which GeoModel has joined this week.

The opportunities for CSP development in Chile will be discussed by key international companies such as Abengoa Solar, SolarReserve and BrightSource Energy at the conference. It will also be an opportunity to meet the local actors that are driving the industry forward like ACERA, ACESOL and Kaltemp.
"With the new renewable targets that Chile has set for 2025, things are looking bright for the solar industry. We are expecting over 250 people at CHILESOL 2014, both local and international companies looking to build strong partnerships to make the most out of the solar opportunity in South America," commented Mercedes Galíndez, CHILESOL's producer.
GeoModel will be sharing the exhibition area with other top CSP suppliers including RioGlass Solar, Promat and Dow Chemical, as well as PV companies such as Bonfiglioli.
For more information on CHILESOL 2014 exhibition visit:http://goo.gl/vhFCV3
Or contact Patricia Tatto at patricia@csptoday.com
Featured Product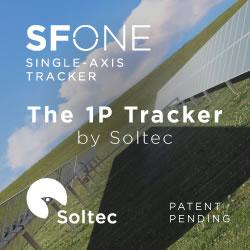 Soltec manufactures and supplies solar trackers designed and proven for extreme climate conditions, which is an ideal solution for any region's environment. Soltec's trackers are self-powered, requiring no additional PV module or grid-powered connection. Bifacial modules collect energy on both the front and rear sides, capturing reflected irradiance from the ground surface under and around the tracker and from other modules. Depending on site conditions, bifacial yield-gain can reach +30 percent.