Nuvation supports development of Ambri's custom battery management system (BMS) to move their Liquid Metal Battery for electricity grid energy storage one step closer to commercialization.
Sunnyvale, CA March 26, 2014

Nuvation Engineering has helped develop a battery management system (BMS) that will enable Ambri to demonstrate a large-scale prototype Liquid Metal Battery grid-scale energy storage system. Ambri's revolutionary new battery chemistry consists of earth-abundant materials and is designed to provide a low cost solution to the challenge of intermittent power availability in regions with wind and solar resources.
"The Liquid Metal Battery is an innovative solution that is unlike any other storage technology commercially available or in development today," said Dr. Donald Sadoway, Ambri's Chief Scientific Advisor. "It can be used in a multitude of applications on the electric power system to integrate renewable resources, reduce costs and improve reliability. Dr. Sadoway pioneered Liquid Metal Battery technology at MIT with David Bradwell, a Ph.D student at the time and now CTO and SVP of Commercialization at Ambri.
"We approached Nuvation when our product development had advanced to the point where it was time to build and operate larger systems – this required a BMS that more closely resembled what would be deployed in the field," said Dr. Bradwell. "We were looking for an engineering firm that possessed both electronic design and BMS expertise. Nuvation's structured approach and relevant experience was essential to developing a custom BMS that met all our needs; it immediately became an invaluable tool in this very exciting phase of our product development."
"Since Ambri's Liquid Metal Battery is still in development, they needed a BMS that could combine the standard monitoring and diagnostics functions of an off-the-shelf BMS with the flexibility to test a variety of configurations and cell interactions," said Michael Hermann, Vice-President of Engineering at Nuvation. "Nuvation is delighted to have played a part in the development of this innovative energy storage solution."
About Nuvation Engineering
Nuvation Engineering is a North American electronic product development company that performs all aspects of device development, from initial design to volume production, across all market verticals. They are partnered with leading component manufacturers and have been delivering high quality solutions to leading product manufacturers for 17 years.
http://www.nuvation.com
About Ambri
Ambri (formerly Liquid Metal Battery Corporation) is developing an electricity storage solution that will change the way electric grids are operated worldwide. Ambri will enable the more widespread use of renewable generation like wind and solar, reduce power prices and increase system reliability. Ambri's technology — the Liquid Metal Battery — was invented in the lab of Dr. Donald Sadoway, a professor at the Massachusetts Institute of Technology.
http://www.ambri.com
Featured Product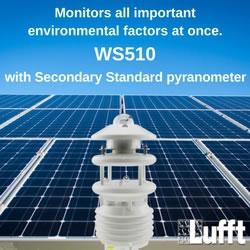 Professional weather sensors form the heart of large solar plants supporting their operation and performance. Lufft was the first manufacturer to combine several sensors in one housing, bringing the largest multiparameter weather sensor family with 19 members into being. Many of them are well-suited for solar site assessment and continuous monitoring. The most commonly used one is the WS600 delivering data on temperature, air pressure, wind, relative humidity and precipitation. Through its open protocol, it can easily be attached to radiation sensors e.g. from Kipp&Zonen. Other models have an integrated Silicon, Second Class or Secondary Standard radiation sensor.