JIASHAN, China, March 26, 2014 -- ReneSola Ltd. ("ReneSola") (www.renesola.com) (NYSE: SOL), a leading brand and technology provider of solar photovoltaic ("PV") products, announced today that it has been selected as one of the respondents in the United States Department of Commerce's anti-dumping investigation on certain crystalline silicon photovoltaic products from China (DOC Case No. A-570-010).

"We intend to fully cooperate with the investigation proceedings," said Mr. Xianshou Li, chief executive officer of ReneSola. "We have temporarily halted shipments to the United States that fall within the scope of the investigation that began this March. At the same time, we continue to deploy our distinctive OEM strategy to meet the increasing demand for solar PV modules in the United States."
For more information, please visit www.renesola.com.
About ReneSola
Founded in 2005, ReneSola (NYSE: SOL) is a leading brand and technology provider of solar PV products. Leveraging its proprietary technologies, economies of scale and technical expertise, ReneSola uses in-house virgin polysilicon and a vertically integrated business model to provide customers with high-quality, cost-competitive products. ReneSola solar modules have scored top PVUSA Test Conditions (PTC) ratings with high annual kilowatt-hour output, according to the California Energy Commission (CEC). ReneSola solar PV modules can be found in projects ranging in size from a few kilowatts to multi-megawatts in markets around the world, including the United States, Germany, Italy, Belgium, China, Greece, Spain and Australia. For more information, please visit www.renesola.com.
Featured Product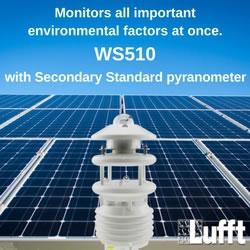 Professional weather sensors form the heart of large solar plants supporting their operation and performance. Lufft was the first manufacturer to combine several sensors in one housing, bringing the largest multiparameter weather sensor family with 19 members into being. Many of them are well-suited for solar site assessment and continuous monitoring. The most commonly used one is the WS600 delivering data on temperature, air pressure, wind, relative humidity and precipitation. Through its open protocol, it can easily be attached to radiation sensors e.g. from Kipp&Zonen. Other models have an integrated Silicon, Second Class or Secondary Standard radiation sensor.