Event Demonstrates Impact and Continued Growth of Renewable Energy
Washington, D..C, March 28, 2014 –The unprecedented growth and long-term policies needed to continue to develop the renewable energy sector were the focus of the American Council On Renewable Energy's (ACORE) two-day National Renewable Energy Policy Forum. The U.S. renewable energy industry is one of the fastest growing sectors of the U.S. economy, creating energy and environmental security, important economic investment opportunities and consumer choice.

brower and mccarthyThe forum brought recognized leaders together to discuss new challenges in policy and to call for updates in regulations to help foster continued growth in renewable energy, as well as look at how renewable energy is reshaping and innovating specific sectors, such as transportation and electricity. The forum also included a panel discussion with the leaders of major renewable energy trade associations to discuss the findings of ACORE's publication, The Outlook for Renewable Energy in America.
"Technological innovation and flexibility are driving the renewable sector in extraordinary ways. We need the regulatory policies to continue to support this growth, which in turn allows the industry to provide clean, safe and reliable sources of power, create jobs and strengthen America's economy," said Michael Brower, president and CEO, ACORE. "The opportunity to bring the heads of the leading renewable energy trade associations together to discuss policy shows how united and committed the sector is to its growth. We've made tremendous progress, but there is more we can do. Policy needs to be updated and refined to drive and keep pace with industry."
U.S. Energy Secretary Dr. Ernest Moniz and U.S. Environmental Protection Administrator Gina McCarthy keynoted the forum, emphasizing the increasingly important role renewable energy plays in the U.S., Secretary McCarthy added, "Energy and environmental issues are two sides of the same coin. The President's climate plan complements clean energy and its deployment," Secretary McCarthy stated. "Policies are moving capital off the shelf and into innovative projects. We need to continue to incentivize innovation."
U.S. Senator Mazie Hirono also addressed the forum reinforcing the importance of renewables to the U.S. economy and their direct impact in her home state. "The efforts underway in Hawaii are not only going to change how we produce and use energy. They are also fostering new partnerships and investments that are the foundation of a true renewable energy economy in Hawaii and a model for the rest of the nation. The long-term benefits of this are clear: chances to attract new capital, develop new industries and create new good-paying jobs."
"Federal and state energy policy and renewable targets should recognize biomass as the valuable renewable resource that it is," added Bob Cleaves, president, Biomass Power Association, a speaker at the forum. "Biomass, as a reliable base load energy source should be an essential element of every renewable energy portfolio, especially state RPS programs. BPA believes that necessary energy tax reform should promote all renewable technologies equally."
"Last year was another record-setting year for solar, with 41 percent growth over 2012. Solar was the second-largest source of new electricity generating capacity in the U.S. in 2013. Smart and effective government policies like the investment tax credit, net energy metering and renewable portfolio standards can help the solar industry reach new heights in the coming years." said Christopher Mansour, vice president of Federal Affairs, Solar Energy Industries Association, (SEIA), a speaker at the Forum. "Steady, predictable government policies such as these allow solar companies to make essential investments in a rational economic environment."
The ACORE National Renewable Energy Policy Forum is an annual event that brings together high-level speakers from government, business and non-profits to discuss the critical energy policy issues surrounding renewable energy, energy efficiency, sustainable development, the environment and related fields. The Outlook for Renewable Energy in America, releasing on Monday, March 31, 2014 provides a comprehensive look at the renewable energy sector and its vision for the future.
About ACORE:
ACORE, a 501(c)(3) non-profit membership organization, is dedicated to building a secure and prosperous America with clean, renewable energy. ACORE seeks to advance renewable energy through finance, policy, technology, and market development and is concentrating its member focus in 2014 on National Defense & Security, Power Generation & Infrastructure, and Transportation. Additional information is available at www.acore.org .
Featured Product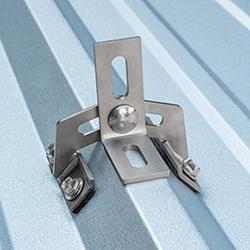 They have been changing the game for 10 years with their original Top Mount line for Asphalt Shingle roofs, and by now supplying one of the widest ranges of solar mounts in North America. From their patented products, to the custom production services they offer, QuickBOLT has been working with solar installers for nearly a decade to make solar installations easier than ever before.