US Energy Secretary, US Senate Finance Committee Chairman, GE CEO, UK Minister of Energy and Climate Change, Bloomberg L.P. founder to join more than 120 energy industry thought leaders speaking at Summit 2014
New York, March 31 – Bloomberg New Energy Finance (BNEF) will welcome nearly 1,000 global energy leaders at the upcoming Summit, April 7-9 at the Grand Hyatt in New York. Now in its seventh year, the forum is one of the most respected in the energy industry, gathering together executives, senior investors and policy-makers who collectively drive the world's transition to cleaner energy.

This year's theme, Phase Change: New Business Models, New Market Structures, will capture the profound changes underway in energy globally and the opportunities for investment and innovation in power and transportation. Key stakeholders from a range of sectors will explore the future of the utility, recent and upcoming policy developments, the integration of electric vehicles and the game-changing potential of energy efficiency, cheap renewable energy, unconventional natural gas, distributed power and new patterns of consumption.
Highlights include:
Keynote addresses:
- Dr. Ernest Moniz, Secretary of Energy, US Department of Energy
- Michael Bloomberg, United Nations Special Envoy for Cities and Climate Change
- Senator Ron Wyden, Chairman, Senate Energy and Natural Resources Committee and Chairman, Senate Finance Committee
CEO discussion:
- Jeff Immelt, Chief Executive Officer of General Electric, with Dan Doctoroff, President and Chief Executive Officer of Bloomberg L.P.
Innovator interviews:
- Tony Fadell, Founder and Chief Executive Officer, Nest Labs
- Alejandro Agag, Chief Executive Officer, Formula E Holdings
New data on the current state of investment in clean energy, presented by Michael Liebreich, Chairman of the Advisory Board of BNEF, in his "State of the Industry" keynote
Additional key speakers include:
Gregory Barker, Minister of State, Department of Energy & Climate Change, UK
Jim Barry, Managing Director, BlackRock Infrastructure Investment Group
Leonardo Beltran, Deputy Secretary for Planning and Energy Transition, Secretariat of Energy Mexico
Lord John Browne, Managing Director and Managing Partner, Riverstone Holdings
Christopher M. Crane, President and Chief Executive Officer, Exelon Corporation
Andy Geissbuehler, Vice President and General Manager, Alstom Renewable Power – Wind, North America
Arno Harris, Chief Executive Officer and Chairman, Recurrent Energy
Connie Hedegaard, European Commissioner for Climate Action, European Commission
Jim Hughes, Chief Executive Officer, First Solar
Amory Lovins, Chairman and Chief Scientist, Rocky Mountain Institute (RMI)
Cheryl Martin, Acting Director, Advanced Research Projects Agency – Energy (ARPA-E) United States Department of Energy
Bill McKibben, Author, Educator, Environmentalist
Torben Möger Pedersen, Chief Executive Officer, PensionDanmark
James Rogers, Former Chairman of the Board, Duke Energy
Francesco Starace, Chief Executive Officer, Enel Green Power
Achim Steiner, UNEP Executive Director and Under-Secretary General, United Nations
Simon Upton, Environment Director, Organisation for Economic Cooperation & Development (OECD)
Maria van der Hoeven, Executive Director, International Energy Agency (IEA)
Governor Christine Todd Whitman, Co-Chair, Clean and Safe Energy Coalition
NEW ENERGY PIONEERS: On the first day of the Summit, Bloomberg New Energy Finance will name the 2014 New Energy Pioneer winners. Now in its fifth year, the award honors 10 companies from around the world that are changing the energy landscape. In a year of record applicants, the independent panel selected the companies that best meet three criteria: potential to scale, innovation and momentum.
PARTNERS: Key Summit Partners include: Bank of America Merrill Lynch, Lockheed Martin and Ernst & Young. Industry Partner is Alstom. Additional partners include: Hitachi, the Zayed Future Energy Prize, ET Solar, First Solar, Novozymes, The Pew Charitable Trusts, Wartsila, Wilson Sonsini Goodrich & Rosati, SunEdison, Applied Materials, Formula E, Broadscale, and Climate Investment Funds.
The hashtag for this event is #BNEF2014.
Follow Bloomberg New Energy Finance on Twitter (@BloombergNEF) and on LinkedIn.
For more information on the Summit, please visit: http://about.bnef.com/summit/
For more information on Bloomberg New Energy Finance, please visit: http://about.bnef.com/
For more information on Bloomberg, please visit: http://www.bloomberg.com/about
About Bloomberg New Energy Finance
Bloomberg New Energy Finance (BNEF) provides unique analysis, tools and data for decision makers driving change in the energy system. With unrivalled depth and breadth, we help clients stay on top of developments across the energy spectrum from our comprehensive web-based platform. BNEF has 200 staff based in London, New York, Beijing, Cape Town, Hong Kong, Munich, New Delhi, San Francisco, Săo Paulo, Singapore, Sydney, Tokyo, Washington D.C., and Zurich.
BNEF products fit your daily workflow, streamline your research, sharpen your strategy and keep you informed. BNEF's sectoral products provide financial, economic and policy analysis, as well as news and the world's most comprehensive database of assets, investments, companies and equipment in the clean energy space. BNEF's regional products provide a comprehensive view on the transformation of the energy system by region.
New Energy Finance Limited was acquired by Bloomberg L.P. in December 2009, and its services and products are now owned and distributed by Bloomberg Finance L.P., except that Bloomberg L.P. and its subsidiaries (BLP) distribute these products in Argentina, Bermuda, China, India, Japan, and Korea. For more information on Bloomberg New Energy Finance: http://about.bnef.com, or contact us at sales.bnef@bloomberg.net for more information on our services.
About Bloomberg
Bloomberg, the global business and financial information and news leader, gives influential decision makers a critical edge by connecting them to a dynamic network of information, people and ideas. The company's strength – delivering data, news and analytics through innovative technology, quickly and accurately – is at the core of the Bloomberg Professional service, which provides real time financial information to more than 319,000 subscribers globally. Bloomberg's enterprise solutions build on the company's core strength, leveraging technology to allow customers to access, integrate, distribute and manage data and information across organizations more efficiently and effectively. Through Bloomberg Government, Bloomberg New Energy Finance and Bloomberg BNA, the company provides data, news and analytics to decision makers in industries beyond finance. And Bloomberg News, delivered through the Bloomberg Professional service, television, radio, mobile, the Internet and three magazines, Bloomberg Businessweek, Bloomberg Markets and Bloomberg Pursuits, covers the world with more than 2,400 news and multimedia professionals at more than 150 bureaus in 73 countries. Headquartered in New York, Bloomberg employs more than 15,500 people in 192 locations around the world. For more information visit www.Bloomberg.com/now/
Featured Product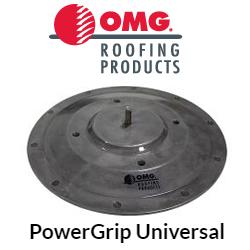 Eliminate Solar Rack Ballast and Reduce Rooftop Material Handling. PowerGrip™ Universal (PGU) is a commercial roof mount system designed to secure solar racks and other equipment to any type of commercial roofing system. PGU provides a secure connection directly to the roof deck or structural members and is designed to reduce or eliminate ballast in solar racking systems, so there's less weight on the roof and less material handling. Made of heavy-duty cast aluminum, PGU units include a base ring which is secured through the roofing cover and into the structural roof deck, and a waterproof top plate.