CSP Today has produced a guide detailing all the legislative drivers to develop concentrated solar power (CSP) technology.
The guide gives the details the 7 Department of Energy (DOE) funding initiatives which have been launched in the past year. The cumulative total of the initiatives runs into many billions of dollars – and is set to secure the future of CSP development for many years to come.

The funding initiatives vary greatly in range and are demonstrative of the commitment from US regulators to cut down the costs of CSP across the board. Included in this is over $20million in funding to facilitate the development of thermochemical storage. The variance and commitment to funding all aspects of CSP development however is demonstrated by the $13million to aid the manufacturing and commercialization of solar technologies.
These initiatives are part of a long line of commitment to CSP by the U.S. government which has culminated in over 1300MW of new capacity 2013-14. The world's largest solar thermal plant – the Ivanpah project is a success story as a result of over $1.2billion in Loan Guarantee funding. The U.S. Department of Energy has also taken great pride in its involvement in the Solana project, the world's largest CSP plant with storage.
With so many new CSP projects completed and with such intensive investment from the DOE on-going it seems likely that CSP's evolution in the US is set to continue. With so much interest in CSP globally due to its unique storage characteristics it seems that the U.S. is set to become a centre of excellence for CSP's global development.
The guide can be read here: http://goo.gl/MDgcNq
About CSP Today
CSP Today is the reference point for CSP professionals and a cornerstone for communications within the industry. We provide business intelligence to the industry with focused news, events, reports, updates and information for the Concentrated Solar Thermal Power industry in markets such as India, South Africa, Spain, USA, Chile and the MENA region.
Featured Product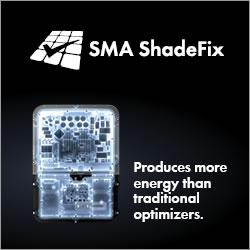 A recent university study showed SMA ShadeFix optimization produces more energy than traditional optimizers. It also utilizes far fewer components, reducing the need for costly service visits. Systems with ShadeFix optimization and SunSpec certified shutdown devices are the ideal solution for residential and commercial PV systems. Visit SMA's website to learn more and download the whitepaper.