KACO new energy supplies the power of the sun for South Africa's energy independence.
Johannesburg / Neckarsulm, 31. March 2014 – Since March, 900 Powador 39.0 TL3 have been working in two tracker-parks with a total output of 33 MW for the South African Independent Power Producers Procurement Program.

When Farmer Herbert was still tilling the land, electricity in the South African Province of North Cape was still a novelty and electricity from sunlight… unthinkable! Today on that very site one hour north of Douglas, there is an enormous 22 MW solar power plant. This project, as well as a second 11 MW park nearby named Greefspan, was conceived by Tenesol South Africa, which has in the meantime become a subsidiary of Sunpower. In March both PV parks went into operation.
The French company decided on the robust KACO new energy inverters in order to supply power tothe grid from 138,000 Tenesol type TE 240 modules mounted on uniaxial trackers. So now a total of 900 Powador 39.0 TL3 units ensure maximum harvesting of the sun in both utility plants which are part of the South African Government's Independent Power Producers Procurement Program.
The areas surrounding both plants do not really correspond to the pictures of the South African coastline that one knows from travel brochures. Here, further inland it is hot, much drier and therefore very dusty – that's no picnic for people, cattle or inverters. Whereas the former know how to help themselves with water or Cape wine, a Powador must make do with dry technology: specially-tuned software from the research and development department together with special filters from ebm-pabst, a long-standing partner of the Neckarsulm PV Company in matters relating to cooling.
After accompanying the technical commissioning, KACO new energy South Africa will also be carrying out "Operations and Maintenance" to ensure full power in the new energy era at the Cape.
About KACO new energy
KACO new energy is amongst the world's largest manufacturers of solar inverters. With 850 employees and offices in 16 countries, the company offers inverters for every array size from the smallest homes to the largest solar farms of hundreds of Megawatts. KACO new energy is based in Neckarsulm, near Stuttgart, Germany and the production facilities there, in the Americas and Asia have supplied nearly 7 Gigawatts of inverters since 1999. The Company was the first inverter manufacturer to achieve fully carbon-neutral production and is rapidly heading towards power self-sufficiency. KACO new energy also supplies energy storage systems and battery inverters, as well as inverters for combined heat and power plants and CPV systems. KACO new energy is celebrating the Centenary of the original company in 2014.
Featured Product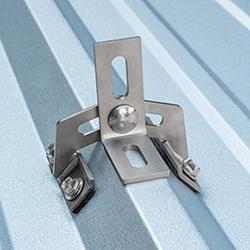 Error-Proof Compression: The QB2 doesn't leave any room for user error when it comes to Microflashing® compression. Once the Dual Drive Shoulder Screw is secured, the Microflashing® is compressed. Only 3 Components: The QB2 is comprised of Microflashing®, an L-foot and a Dual Drive Shoulder Screw. No more Nuts needed to tighten and secure the L-foot! Not only does this simplify the installation process, it also cuts down the installation time.