Baldwin Auck most recently served as senior policy and regulatory associate at Utah Clean Energy
With nearly a decade of regulatory policy experience and project management, Sara Baldwin Auck joins the Interstate Renewable Energy Council (IREC) as Regulatory Program Director, a new position for IREC, which for more than 30 years has led national efforts to make clean energy accessible and affordable for more Americans.

Baldwin Auck most recently served as senior policy and regulatory associate at Utah Clean Energy, a non-profit, non-partisan public interest organization which like IREC is working to build the new clean energy economy. Her involvement in state, federal and local policy efforts led to the adoption of several policies that help level the playing field for clean energy, including net metering, interconnection, third-party financing and commercial PACE.
"This position was created in recognition of the importance of expanding IREC's level of engagement in the regulatory arena," says IREC Board Chair David Warner. "Sara brings extraordinary expertise and skills to IREC's broad regulatory team, which works in nearly every state to expand access to affordable, safe, clean energy," adds IREC President and CEO Jane Weissman. "We are so fortunate that Sara has joined us to provide strategic leadership and overall management of IREC's regulatory activities."
Among many accomplishments, Baldwin Auck was project lead for the Wasatch Solar Challenge, which received the 2013 Utah Business Magazine Sustainable Business Award for Social Impact. She also served as project advisor for Summit Community Solar and Salt Lake Community Solar, Utah's first highly successful bulk-purchase solar initiatives. And Baldwin Auck's regulatory involvement and coordination with over 170 stakeholders led to the creation of a new five-year, $50 million utility solar incentive program that will expand Utah's distributed solar market by 600 percent.
Auck has served on several working groups, including the Energy Development and Environment Subcommittee of Utah Governor Herbert's 10-Year Energy Initiative, the Utah Department of Environmental Quality Climate Change Stakeholder Working Group, the Salt Lake City Energy and Carbon Advisory Committee, and the Utah Renewable Energy Initiative Group. In 2012, she was named one of "Utah's Enlightened 50" by the Community Foundation of Utah.
"I have always admired and respected IREC's work, and I am truly honored to be joining such an exceptional team of national leaders in clean energy," says the Utah native. An alumna of the University of Utah, Auck holds honors BS and BA degrees in environmental studies and Spanish.
Baldwin Auck, who lives with her husband in Salt Lake City, enjoys biking, skiing, climbing and running in the mountains and desert. She is an avid urban gardener, aspiring musician and "semi-adventurous" globe-trotter.
About IREC
IREC believes clean energy is critical to achieving a sustainable and economically strong future. To pave this clean energy path, IREC works to expand consumer access to clean energy; generates information and objective analysis grounded in best practices and standards; and leads programs to build a quality clean energy workforce, including a unique credentialing program for training programs and instructors. A not-for-profit organization since 1982, IREC's programs and policies have benefitted energy consumers, policymakers, utilities and the clean energy industry. As of July 2013, IREC is an accredited American National Standards Developer. For more information, visit http://www.irecusa.org
Featured Product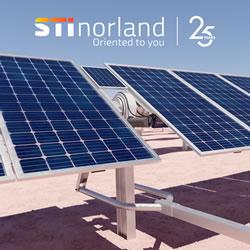 Developed in 2017, the STI-H250™ is consists of two linked torsion beams that rotate simultaneously following the sun's path. They are moved by just one motor, cutting supply and maintenance costs. STI-H250™ dual-row tracker includes backtracking mode to avoid shadowing between adjacent rows and stow function to protect the tracker in extreme wind conditions. For cleaning, vehicles can pass between trackers and each row can be placed in a different position.