Companies from around the world are recognized as leaders driving change in the energy system
New York, April 7 – Bloomberg New Energy Finance, the provider of unique analysis, tools and data for decision makers driving change in the energy system, today announced its selection of the 2014 New Energy Pioneers. The winners were recognized on stage at the seventh annual Bloomberg New Energy Finance Summit in New York City.

This year's winners (listed in full below) represent a broad range of industries including bioenergy, energy efficiency, geothermal, innovative finance, smart energy technology, solar and water. By rewarding game changing innovators, Bloomberg New Energy Finance hopes to highlight the profound transition in today's energy system, towards new business models, technologies and market structures that are challenging the status quo.
Each New Energy Pioneer has a combination of innovative technologies and new business models, the ability to demonstrate substantive progress in their activities, and the potential for global scale. An independent panel of industry experts selected the 10 winners from numerous applicants from around the world, assessing them against three criteria: potential scale, innovation and momentum.
Michael Wilshire, Selection Committee Chair and Head of Analysis of Bloomberg New Energy Finance, said: "We were impressed by the strength and breadth of innovation in this year's New Energy Pioneer candidates and their potential to accelerate the next wave of industry growth. We are again very grateful to our group of judges who narrowed this field down to just ten winners. We wish all of the Pioneers every success in the future."
The 2014 New Energy Pioneers are:
- 1366 Technologies has developed an innovative manufacturing technique for producing silicon wafers, the basic building blocks of solar cells, at a fraction of today's cost.
- Breathing Buildings is an ultra-low energy ventilation company that provides a unique range of patented natural ventilation products as well as innovative ventilation modelling services.
- Bridgelux is a pioneer in LED and solid-state lighting technologies, developing next-generation embedded light source solutions.
- Coolerado designs and manufactures super-energy-efficient air conditioning for commercial and industrial use, based on a proprietary, patented and proven technology.
- Genomatica develops and licenses complete manufacturing processes for producing many of the world's most widely-used chemicals from alternative bio-feedstocks, at competitive cost and with greater sustainability than petroleum-based processes.
- Green Energy Group provides turn-key modular geothermal wellhead plants, which reduce capital expenses and project risk and allow for quicker payback on investment.
- M-KOPA Solar brings together asset financing, mobile technology and solar innovation to connect off grid, low income homes to energy.
- Oasys Water is providing sustainable solutions to transform the world's most difficult and contaminated waters into valuable resources.
- Renmatix is a technology licensor that enables the production of petrochemicals from plants, with a process that has a low cost method for converting a wide range of non-food biomass into cellulosic sugars.
- Younicos is a technology-open system integrator and provider of control and energy management software, for storage applications ranging from ramping of renewables to frequency regulation and renewable islands grids.
The New Energy Pioneers program partners are EY, Wilson Sonsini Goodrich & Rosati, and Broadscale.
For more information on the Pioneers program, visit: http://www.newenergypioneers.com/
For more information on the Bloomberg New Energy Finance Summit, visit: http://about.bnef.com/summit/
Featured Product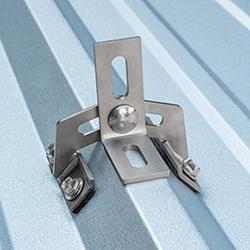 They have been changing the game for 10 years with their original Top Mount line for Asphalt Shingle roofs, and by now supplying one of the widest ranges of solar mounts in North America. From their patented products, to the custom production services they offer, QuickBOLT has been working with solar installers for nearly a decade to make solar installations easier than ever before.