Projects deliver estimated savings of $700,000 annually for tribal operators at off-grid site on I-15 in Valley of Fire, NV
USDA Administrator Joins with Stronghold Engineering and Project Partners to Dedicate New Solar Project at Moapa Paiute Travel Plaza in Nevada

Projects deliver estimated savings of $700,000 annually for tribal operators at off-grid site on I-15 in Valley of Fire, NV
VALLEY OF FIRE, NV, April 8, 2014 -- Today the Moapa Band of Paiutes Tribal Council joined with USDA officials and Stronghold Engineering in celebrating the completion of a new 252kW off-grid CPV solar hybrid system with energy storage at the Moapa Paiute Travel Plaza along Nevada's I-15 North. Tribal leaders noted that the lower energy costs delivered by this project will improve its business enterprise, while significantly reducing carbon emissions.
USDA Rural Utilities Service Administrator John Padalino and Tribal leaders celebrated the completion of the project at the Travel Plaza, located 35 miles northeast of Las Vegas, Nevada, near the site of the Tribe's utility scale, thin-film solar project (currently under construction). The Moapa Paiute Travel Plaza hybrid microgrid project was funded through USDA's High Energy Cost Grant program, which provides funding for energy efficiency improvements in areas with energy costs at least 275% of the national average.
The USDA RUS Grant funded the development and construction of energy efficient LED lighting at the Travel Plaza, and the design, engineering and construction of an off-grid, concentrated photovoltaic (CPV) hybrid system that includes nine Soitec dual-axis CPV trackers, a battery backup system, and three Tier 4 energy efficient generators. The Tribe expects the solar power array will reduce reliance on diesel powered generators at the site, and will save the Tribe an estimated $700,000 annually in fuel costs.
Stronghold Engineering, the contractor that designed, engineered and constructed the CPV hybrid system, estimates that the project will displace an estimated 3,636,302 lbs of CO2 emissions that would otherwise pollute the atmosphere.
"The Moapa Paiutes Tribe's solar project is the latest step toward building a clean energy economy," said Padalino. "This innovative hybrid microgrid project will deliver reliable, affordable power to the Moapa Travel Plaza, the largest employer of the Tribe. USDA funding of this innovative 252 kw solar facility is fundamental to economic opportunities of the Moapa Tribe and aligns with their commitment to environmental protection."
"There are endless opportunities in renewable energy; this project will help to create a model for other Tribes to follow," said Aletha Tom, chairwoman of the Moapa Paiute Tribal Council.
"It is such a privilege to be a part of this off-grid, clean tech hybrid project that represents a first for so many entities in both the public and private sectors. A first for Native Nations, USDA, Soitec, the State of Nevada, the U.S., and our very own company, Stronghold Engineering. We have come together to support our nation's infrastructure and move our country towards energy independence," said Beverly Bailey, CEO, Stronghold Engineering.
The project helps deliver tremendous economic development benefits for current and future generations of the Moapa Band of Paiutes. New and returning customers are now drawn off the I-15 freeway to visit the newly remodeled Travel Plaza, which offers Native American art, a café, recreational supplies, fireworks, and fuel to the traveling and recreation-seeking public.
The off-grid hybrid microgrid project utilizes nine highly efficient American-made Soitec's Concentrix 5th generation CPV dual-axis tracking technology. The Soitec CX-S530 system is designed to improve the economics of utility-scale solar power plants in the sunniest regions of the world. Each of the trackers produces 28 kW, totaling 252 kW of clean, renewable energy. In addition, the system includes a battery bank, three highly efficient Tier 4 generators, providing consistent power delivery to the Travel Plaza during evening operations.
###
About Stronghold Engineering, Inc.
Since 1991, Stronghold has provided its clients with full service construction support, including design build, engineering-procurement-construction (EPC), vertical, civil and high voltage electrical construction. Operating from its Southern California headquarters, the Stronghold Engineering, Inc. team is able to reach nationally and internationally.
http://strongholdengineering.com/
Contact for photos, more information: SusanDV@aol.com
Featured Product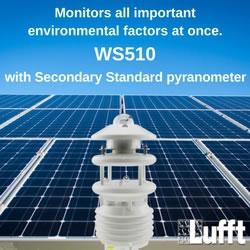 Professional weather sensors form the heart of large solar plants supporting their operation and performance. Lufft was the first manufacturer to combine several sensors in one housing, bringing the largest multiparameter weather sensor family with 19 members into being. Many of them are well-suited for solar site assessment and continuous monitoring. The most commonly used one is the WS600 delivering data on temperature, air pressure, wind, relative humidity and precipitation. Through its open protocol, it can easily be attached to radiation sensors e.g. from Kipp&Zonen. Other models have an integrated Silicon, Second Class or Secondary Standard radiation sensor.